Major information sites suspended in Russia over 'bribery instructions'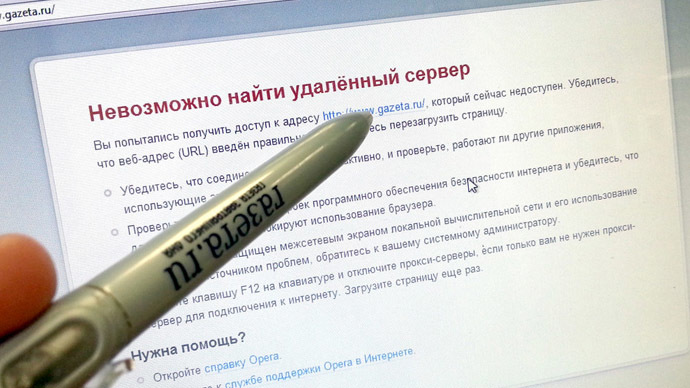 A state-run internet provider in a central Russian region has blocked two leading media web-sites after a court ruled that they were publishing instructions on how to offer bribes to civil servants.
Popular Russian internet daily Gazeta.ru reported on Tuesday that access to its web-site had been blocked by Rostelecom in central Russia's Ulyanovsk Region.
Rostelecom replied to the newspaper's enquiry that it had limited the access to 15 internet resources, including Gazeta.ru and web-site of another popular newspaper - Komsomolskaya Pravda after a district court in Ulyanonsk ruled that these sites were distributing materials that "promoted bribery and undermined the authority of the state power". The case was instigated by local prosecutors who demanded action citing the Law on Information that allows to selectively block internet content "in order to protect the basics of the constitutional state, morals, rights and lawful interests of third persons as well as the protection of national defense and security potential".
Prosecutors claimed that they had discovered information on ways to give bribes and on conditions under which bribing is necessary as well as advice on various ways to evade responsibility for this crime. However, neither the prosecutors' lawsuit nor the court verdict contained precise links to the content in question.
Both Gazeta.ru and Komsomolskaya Pravda said they were unaware of the hearings and of the verdict and learned about the blocking from their readers.
Some of the readers who reported the problems said they had to change their internet provider to continue reading their favorite news sites. Apparently, other ISPs in the region did not heed the court decision.
After the story broke Ulyanovsk prosecutors said they were surprised that the provider blocked the resource as a whole instead of only blocking the pages with violating materials. They also added "the screen shots of all materials had been made in the witnesses' presence and passed to the judge".
In turn, Rostelecom told Gazeta.ru that it could only block the web-site as a whole. A company representative also expressed bewilderment over the fact that in this and similar cases prosecutors targeted Rostelecom and completely ignored other internet providers.
Rostelecom covers about 39 percent of the internet services market in Ulyanovsk Region.
Gazeta.ru lawyers said in a statement that their daily never breached any law, saw no reasons for content blocking and did not exclude that they would appeal the court decision.
Gazeta.ru is one of the most popular news sites in Russia with about 10 million visitors monthly. Komsomolskaya Pravda is the heir of the superpopular Soviet-era newspaper with about 18 million monthly visitors.