Khodorkovsky's supporters stage march on his birthday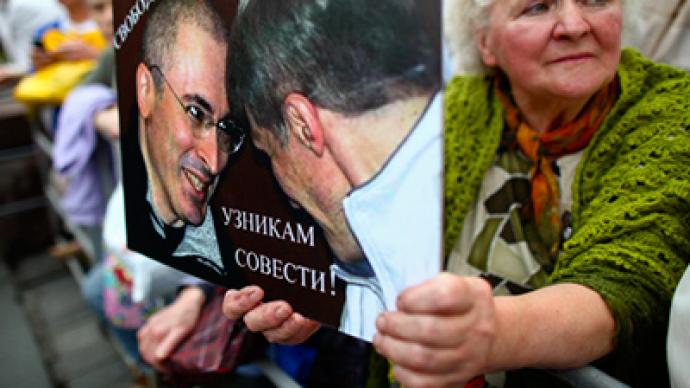 Several dozen people held a demonstration in Moscow in support of Mikhail Khodorkovsky on his birthday.
The rally was announced on a web-site maintained by a group of supporters for the former oil tycoon and his partner Platon Lebedev, who have been both recently been sent to penal colonies to begin serving their second sentences. According to various reports, from 30 to 100 people took part in the officially sanctioned rally – marching down Arbat Street in central Moscow with balloons and flowers.However, some of the demonstrators attempted to disrupt public order (in particular, by setting off fireworks) and from three to ten of them were taken away in police cars. The Russian Interior Ministry gave no comment on the incident as all of the detained were released without being arrested or charged.  Another rally took place in St. Petersburg which went off without incident.   A march in Khodorkovsky's support has been planned in London, though neither his supporters nor the British press have reported on it.Khodorkovsky turned 48 on June 26. The former head and key shareholder of the Yukos Oil Company has just arrived at a prison camp in North-Western Russia where he will serve out his sentence after a court found him guilty of fraud and money laundering in the second case against him. With both sentences being served concurrently, Khodorkovsky will be behind bars until 2016, unless the authorities grant him early parole. Khodorkovsky's defense has said that they had already filed an appeal for early release, but the request is currently making the rounds between various agencies due to bureaucratic procedure. An independent probe into the legality of the second case against Khodorkovsky and Lebedev is being carried out by the Presidential Council for Human Rights and the preliminary results of the probe will be ready by autumn.As Khodorkovsky has been in quarantine since arriving at the new prison camp on June 17, he has been temporarily cut off from the outside world and thus could not comment on the demonstrations held in his support.
You can share this story on social media: