Students to bear arms instead of taking summer holidays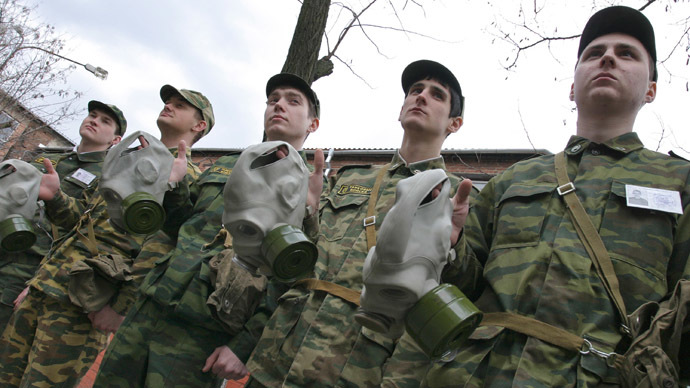 Russian students might soon be doing military service on an installment plan, spending three summer months every year in boot camp, thus obtaining a military specialty during studentship. Opponents say these plans would harm academic progress.
Russia's Ministry of Defense is in talks with the country's leading educational institutions trying to find a way to kill two birds with one stone: to have graduates with true military service experience who could become reliable reserve officers, Vedomosti daily reports.
A group of chancellors from leading universities has proposed that students studying in faculties of interest to the military should do army service for three summertime months for three consecutive years.
This would mean that engineers-to-be would do service relative to their education plan, getting acquainted with equipment and vehicles they might have to deal with if D-day comes.
To prevent students from over fatigue, the plan also build in prolongation of the four-year Bachelor's program by half a year so that students can have vacations.
The source of the Vedomosti daily close to the Ministry of Defense says the project would be opened to public discussion.
Delivering his annual address to the Federal Assembly last Thursday, President Vladimir Putin mentioned that the country should "think about creating a well-trained military reserve" of mainly technical specialists.
The Russian president suggested changing the way military education and training is conducted in universities without abolishing the draft deferment for students.
"Every student would go through the basics of military training as part of their education and acquire a military skill," Putin said, demanding that the government and the Security Council present "specific ideas" regarding the establishment of such a system that would allow the army to have technically educated and military trained reserve officers.
Last Thursday, deputy Minister of Defense, Nikolay Pankov, revealed that the Ministry supports the idea of 'deferred service'.
"We don't reject such ideas, we scrutinize them and we are ready to work in this direction," Pankov told journalists.
In the meantime the Russian Students Union does not welcome the idea because such service would "have a detrimental effect on their performance and on professional training as such".
The head of the Union, Artem Khromov, explained to the Interfax news agency that the actual summer vacation only lasts a month and a half, whereas the first half of the summer is a hard time for students, who attend summer classes and undergo obligatory on-the-job training.
The Ministry of Economic Development opposed the project, claiming it is excessively expensive and does not guarantee that a student would finalize his military education.
Anyway such innovation can't be introduced throughout the country without a test period.
Today only about 30 Russian universities possess military faculties, yet graduates who attain officer rank haven't done service since 2009, when military reform cut down service personnel by thousands of officers.