State Duma rejects proposal for three consecutive presidential terms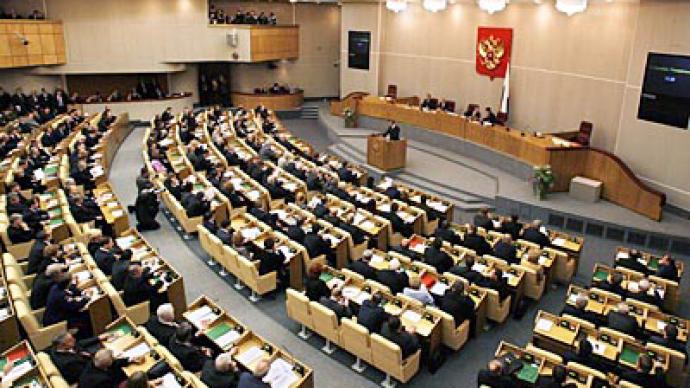 The lower house of the Russian parliament rejected on Tuesday an amendment that would permit more than two successive presidential terms of office.
Members of the State Duma Committee on Constitutional Legislation described the amendment as "inexpedient." They stressed that the effectiveness of the relevant Article 81 of the Constitution "has been proved by the current practice," Itar-Tass reports. The article stipulates that no individual may serve in the position of president for more than two successive terms. But there have been calls in the past to change the Russian Constitution to accommodate this proposal.    Deputies of the Chechen parliament suggested back in August 2006 that the law should be changed, arguing that "ordinary people" wanted then-President Vladimir Putin to finish the reconstruction work he had started in Chechnya and the stabilization of the situation in their North Caucasus republic. President Dmitry Medvedev proposed that a presidential term be extended from four to six years, with a term in the Duma increasing from four to five years.   Amendments to the Constitution require a long procedure. They are adopted as federal laws by the State Duma. Then they should be approved within a year by the upper house, the Federation Council, and by two-thirds of legislative bodies of Russia's regions. If nobody appeals against the proposals to the Constitutional Court, they become effective. In the 15-year history of the Constitution's existence, amendments concerning the term of office were first adopted in 2008.Commenting on the committee's recommendation to preserve two successive terms for the head of state, its deputy chairman Aleksandr Moskalets said that the rule imposes "real limits" on presidential power.
You can share this story on social media: