One state or two? Pro-Romanian activists and Moldovan "Patriots" rally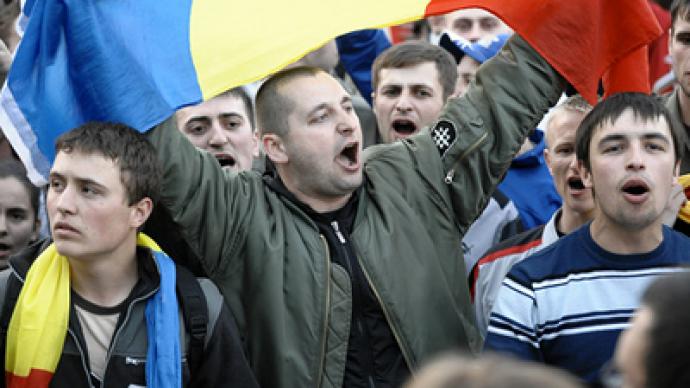 Supporters and opponents of the unification of Moldova and Romania have held large-scale rallies in the center of the Moldovan capital, Chisinau.
Several pro-Romanian organizations in Moldova campaigning for the republic's unification with Romania marched through the central streets of Chisinau on the 93rd anniversary of the two countries' unification as a result of the first world war. The supporters of unification and the so-called Great Romania, referred to as "unionists", chanted "Basarabia  – pamint romanesc!" (Bessarabia is Romanian land!), "Jos ocupatia" (Down with occupation!), "Libertate!" (Freedom!), "Noi suntem romani!" ("We are Romanians!").Bessarabia was attached to Romania on March 27, 1918. In 1940, however, following the signing of the Molotov-Ribbentrop act, it became part of the USSR as the Moldovan Socialist Republic. On August 27, 1991 Moldova adopted a declaration of independence proclaiming a sovereign state in within its 1940 borders. "The years from 1918 through 1940 when Bessarabia was part of Romania was a bright period in our history," said the participants of the rally, "while June 28, 1940, when the Soviet troops invaded, Moldova marked 'the start of the Soviet occupation." They accuse the current Moldovan leadership of doing little "to unite the country with its motherland Romania."They also laid flowers at a memorial stone placed "in commemoration of the victims of the Soviet occupation," in central Chisinau on the orders of former Moldovan president Mihai Ghimpu. At the same time, several organizations and parties referring to themselves as "patriotic" held an alternative gathering, against the unification of Moldova and Romania. The representatives of this movement heterogeneous movement are commonly known as Moldovanists.For them, March 27, 1918 is the "day of national disgrace", when "Romania annexed their land". "Whereas back then we were  occupied with bayonets, today the same is being done in a more sophisticated manner, employing the  whole arsenal of subversive ideology," organizers said in leaflets. They urged their fellow countrymen to say "No" to the "Romanization of Moldova".Their posters read, "Noi suntem patrioti!"  (We are patriots!), "Jos romanizarea, sus Moldova!" (Down with Romanization, long live Moldova!), "Moldova – stat suveran!" (Moldova is a sovereign state!).Both rallies took place amid heavy police presence, but no clashes between the opposing forces have been reported.
You can share this story on social media: