Defense chief firing key step in Russia's military reform – experts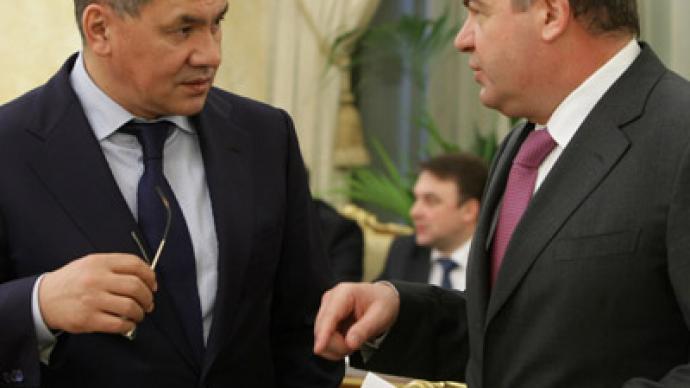 The replacement of Russia's Defense Minister Anatoly Serdyukov with former Emergencies Ministry chief Sergey Shoigu is a significant move in countering corruption in the Army and in the country in general, experts agree.
President Vladimir Putin sacked Serdyukov after his ministry was drawn into a major scandal over alleged selling off of Defense Ministry's assets.Putin, as well as his predecessor Dmitry Medvedev, has named countering corruption in Russia as one of his main goals. The dismissal of such a high-ranking official and Putin's long-time ally indicates there are no "untouchables" in this battle.Prime Minister Medvedev pointed out on Tuesday that Serdyukov was "an efficient Defense Minister, proven by the transformation he made to the Armed Forces" .He admitted that some mistakes were made, "but there's no other way to have serious reforms."Serduykov showed his professionalism during the operation in Georgia, in August 2008 – which was "absolutely successful from the military point of view," Medvedev, the then-president pointed out. In addition, following the conflict in the Caucasus the minister confirmed the need to further modernize the Russian Armed Forces. However, the premier stressed that the embezzlement investigation should be swiftly brought to a close and it should be left to a court to decide the outcome. This case might be seen as a signal to civil servants and society in general that even allegations of being involved in corruption "must lead to real actions," a senior MP from the United Russia party, Aleksey Chesnakov told Itar-Tass. The move was welcomed in Russian political circles, where Shoigy – known for his "crystal-clear" reputation – is seen as a far better candidate than Serdyukov to head the scandal-marred military establishment. A criminal probe into a suspected $100 million property scam at Oboronservis – which is a company run through the Defense Ministry – has seriously damaged the ministry's image. One of Shoigu's major tasks now is to restore public confidence. In that respect, appointing Shoigu – who was awarded Hero of Russia – is a "good step," upper house's speaker Aleksandr Torshin pointed out, cites Interfax. In addition, he "has no personal or career ties" in the ministry and that will seriously damage "corruption schemes" in the Russian Army. Unlike Serdyukov, who was Russia's first civilian Defense Minister, Shoigu holds the rank of General of the Army that certainly gives him points in the eyes of the military. In addition, he is one of the most popular Russian politicians, while Serduykov has faced public criticism especially in connection with military reform that involved firing a large number of officers. Yet another thing that irritated the military about Serduykov was that often he did not take their opinion into account when making decisions. "A person who has never been in command of even a battalion had suddenly become the head of the defense agency," Communist leader Gennady Zyuganov pointed out, commenting on Serduykov's appointment back in 2007."His reforms were a complete idiocy," he added. By putting forward Shoigu to head the Defense Ministry, Putin has tried to regain popularity among the military, believes political analyst Igor Bunin. "He has shown that he makes harsh decisions and no illness can hamper him from ruling the country," he said, referring to recent speculations in the media about Putin's problems with health.Sergey Shoigu is credited with the creation of Russia's Emergencies Ministry, which is often called the most efficient in the country. His previous experience as well as excellent managing skills will certainly help him at his new post where the new minister will face a number of challenges – from completing the army reform to solving problems with salaries, pensions and housing for military personnel. "And that's not enough. What's most important now is improve the combat readiness of the Armed Forces in at least three years," said Vladimir Komoyedov, the head of State Duma Defense Committee. As part of the massive army reform, Russia will spend 23 trillion roubles ($720 billion) on the military by the end of decade. "Securing the dynamic development of the Armed Forces, the nuclear and space industries, the defense industry, military education, fundamental military science and applied research programs will remain a key priority of Russian government policy," Putin stressed in an article published during his presidential campaign.Back then, he stressed that Russia's goals in defense and national security cannot be achieved without high morale and motivation in the army and defense plants or without respect for the Armed Forces in society.
February 22, 2012. Prime Minister Vladimir Putin, right, during a visit to the Taman Kalinin Motorized Rifle Brigade of the October Revolution Banner and the Red Banner. Putin was shown military equipment, special weapons, small arms and knives, communication equipment and equipment for special forces soldiers. (RIA Novosti/Aleksey Nikolskyi)