Serbia says 'nyet' to NATO membership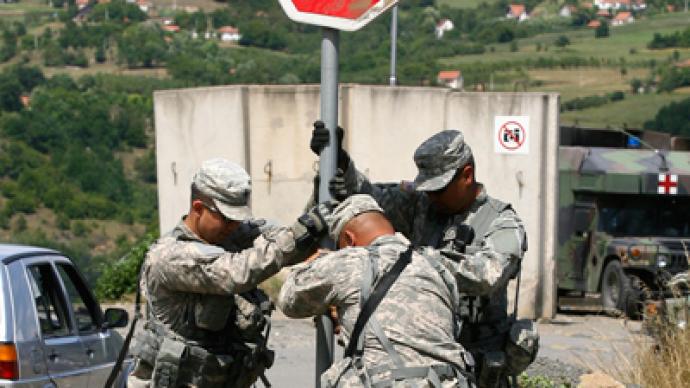 President-elect Tomislav Nikolic, who is looking for more intensive relations with Russia, has promised that Serbia will never become a member of NATO.
­Nikolic, who met Putin in the Russian capital on the weekend, stated that Serbia is "on the road" to the European Union, admitting that it will be "a long road, and we will base our relations on the rules of international law."
He added that he wasn't sure if Serbia would be admitted into the EU unless "we recognize the independence of Kosovo and Metohija."
Many Serbs are ambivalent, if not outright hostile to the idea of restoring full relations with the European Union, not to mention the North Atlantic Treaty Organization (NATO). In 1999 Belgrade was on the receiving end of a massive 78-day bombing campaign by the alliance (March 24 – June 10) aimed at removing Yugoslav forces from Kosovo.
"Our constitution forbids us to abandon Kosovo and Metohija," Nikolic said.
Asked whether Belgrade would ever resort to military force to bring the breakaway regions back into the Serbian fold, Nikolic said this was not an option.
"I have often insisted that Kosovo is an inseparable part of Serbia. But this does not mean that we are willing to go to war with them. This is simply out of the question. We have suffered enough from wars. And besides, NATO remains stationed there, in that province, albeit under the UN flag."
"Serbia will look for a solution to the Kosovo issue on conditions that are acceptable to both parties," Nikolic said, adding that this solution needs to be fully supported by the Serbian people.
NATO and Russia experienced in the last hours of the Serbian conflict what has been described as the tensest moment of their decades-long history.
On June 12, 1999, after Moscow had been denied its own peacekeeping sector in Kosovo by NATO officials, 200 Russian airborne troops made a night-time dash from Bosnia and Herzegovina all the way to Pristina, the capital of Kosovo. There, the Russians occupied the main airport and refused NATO troops entry. The incident caused a tense exchange between US NATO Commander Wesley Clark and British General Mike Jackson, who famously told Clark, "I will not start World War III for you" by confronting the Russian troops.
Eventually, both sides agreed that Russian peacekeepers would deploy throughout Kosovo, but independent of NATO brass.   
Nikolic heaped praise on Moscow, which, he says, has never placed demands on the Serbian people.  
"As for Russia, I have never heard your country demand that we abandon this province," he said.
Nikolic went on to thank Russia for supporting Serbia, while stressing that his country "would never join NATO."
He also suggested that Putin choose a date to visit the Balkan country.
"You have earned your prestige with the way you govern Russia. And although Serbia is on a road to the EU…we will be building out our relations with Russia meanwhile," the Serbian president-elect said at the meeting in Moscow with Putin.
Commenting on his recent victory in the Serbian polls, Nikolic said the only way he could have lost the presidential election was if Putin had been his rival.
"So high is your prestige among the Serbian people," he said.
It should be noted that Serbia also ranks high on Russia's list of respected allies, which was proven by the fact that Nikolic was Putin's first meeting with a foreign leader since being elected.
Meanwhile, Russia is ready to allocate the second loan tranche of $800 million to Serbia, Putin assured his Serbian guest.

The Russian leader said that for the loan to be granted there should be concrete technical proposals to rebuild Serbia's aging infrastructure.
Earlier, Russia already provided a $200 million loan to Serbia in an effort to consolidate the country's budget.
Moscow's total investment in Serbia stands at $1.4 billion, Putin recalled.
As for the next tranche, the president-elect should lend impetus to government structures in order to ensure that they expedite the preparation of technical proposals, Putin said.
Putin also wished Nikolic success in implementing all his campaign promises.
"These tasks are plenty and difficult," he said.
The Russian leader mentioned that cooperation between the two countries will help deal with the various complicated problems. Putin also referred to Serbia as Russia's "spiritual brother."
"While Russia sees Serbia as a reliable partner in the Balkans, we are also spiritual brothers," he said. "This is how it was, and this is how it will be."
At the end of the meeting Putin made "an unusual request" to Nikolic: "I would like to say that we have worked with your political opponent, previous president Boris Tadic, as partners for a number of years, and I am asking you to pass along our words of gratitude for the joint work," Putin said.
The Russian president invited the Serbian president-elect to visit Russia following his inauguration "at any time that is convenient for you."