"Bridges not bridged" at Security Council session on Koreas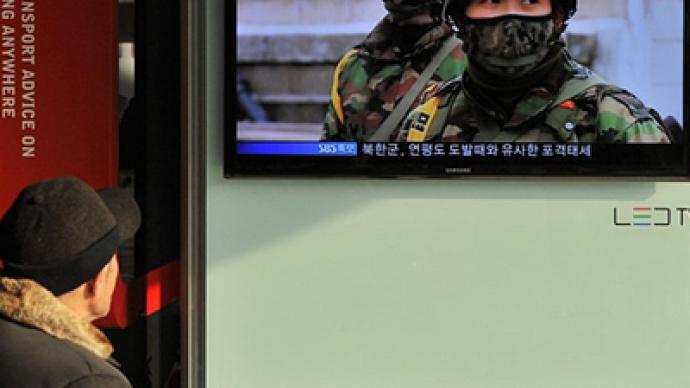 The six-party talks on the current situation on the Korean peninsula are not "operative", according to the Russian Ambassador to the United Nations Vitaly Churkin.
­He made the statement at the emergency session on the UN Security Council on Sunday, called after South Korea announced it would go ahead with planned live-fire military exercises – which it actually carried out on Monday. North Korea has insisted the exercises are designed to violate the armistice that ended the Korean War in 1953 and will lead to a "catastrophe".

"We reiterated a call for restraint on both parties in no uncertain terms," outlined Ambassador Churkin. He specifically added that Russia has reiterated its call on South Korea to restrain from holding the exercises. He noted Russia's initiative for the emergency meeting, which was held behind closed doors, was justified and timely. Representatives from both Koreas took part in the talks.

"Several Security Council member-countries supported Russia's idea to propose to the UN Secretary- General to send his special envoy in the region," Churkin told journalists after the session. He also said the meeting did hopefully have its impact on the situation on the Korean peninsula, although they were not able "to bridge all the bridges".

The obstacle is not only in the increasing tensions in the relations between Pyongyang and Seoul but also divisions within the Security Council. If Russia insists South Korea should stop the war games, the United States, Seoul's staunch ally, has defended its right for self-defense. 
US Ambassador to the UN, Susan Rice, for her part, said the divisions are so serious that they are unlikely to be overcome soon. "I think it's safe to predict that the gaps that remain are unlikely to be bridged."
­Professor Rudiger Frank from the University of Vienna says that these war games conducted by South Korea are damaging the country's reputation.
"Internationally, South Korea is taking a really great risk I would say, because South Korea isn't North Korea. [From] North Korea we kind of expect really coarse behavior, because that's all they always do. South Koreans in a last few years were able to display themselves as the 'good guys', as the peaceful ones, that were constantly being provoked by the North. Now South Korea itself takes such a hard-measured approach to the whole issue. It could very quickly happen that public opinion in the world changes and regards South Korea as being the part of the problem. So the actual moral high ground that South Korea has been occupying is now really endangered in many ways."
The situation on the Korean peninsula aggravated on November 23 when North Korea opened fire on South Korea's Yeonpyeong island, when two South Korean marines and two civilians were killed.