Saakashvili spouts off on live TV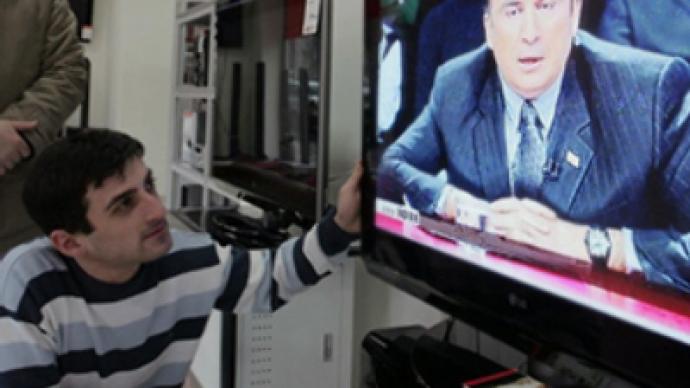 President Saakashvili went on national TV in Georgia to explain why the country is in trouble and how he would rebuild it. The opposition has branded the event as "a cascade of lies".
During a live question and answer session, the President told his countrymen that Georgia was a truly democratic country. Proof of this, he said, was in the fact that many of his ex-allies were now in opposition.
Saakashvili said that although Georgia was suffering from the global credit crisis, it was in a less precarious position than many other nations.
He added that the evil mastermind behind the humiliation of the South Ossetian war was in Moscow, conspiring new plots against a neighbour.
No time for snap election
Lauding the the democratic nature of Georgia, Saakashvili said "despite many opposition members crying that they are barred from television, it's not true. We are a democratic state."
He lashed out at former supporters, saying they turned against him "after they were sacked or after their term in office ended" and that none of them was "critical while holding office."
Despite opposition calls, Saakashvili was adamant that he would not call early an presidential election. With the global crisis squeezing Georgia, the government should "fight for every single job, and a snap election will push the country back several years." Saakashvili didn't say whether he meant the presidential job in his comment.
Evil empire in the north
The person responsible for the bloody war in South Ossetia is Russia's Prime Minister Vladimir Putin, claimed Mikhail Saakashvili, comparing him to the 16th century Persian ruler Abbas, whose war against the Ottoman Empire for domination in the region wreaked havoc in the territory of present day Georgia.
Saakashvili claimed Russia is paying foreign politicians and media to damage Georgia's image. He said Nicaraguan President Ortega was 'out of his mind' in recognizing South Ossetia and Abkhazia as independent states.
Saakashvili warned that 'the enemy' is not idle. Moscow, he claimed, continues to send agents to work from within the country, to put Georgians 'into slavery'.
`Cascade of lies`
Meanwhile, Georgia's opposition appears to have taken little notice of what Saakashvili said on air.
Former Georgian Prime Minister Zurab Nogaideli said he didn't believe a single word in Mikhail Saakashvili's Q&A session and branded it 'a cascade of lies'.
Former Parliament Speaker Nino Burjanadze said she didn't watch the event because she knew the president's answers would not be sincere.
Yet another opposition leader Zviada Dzidziguri pointed out that "the president didn't give a straight answer to a single hot question".
You can share this story on social media: