'Saakashvili cannot win in fair elections'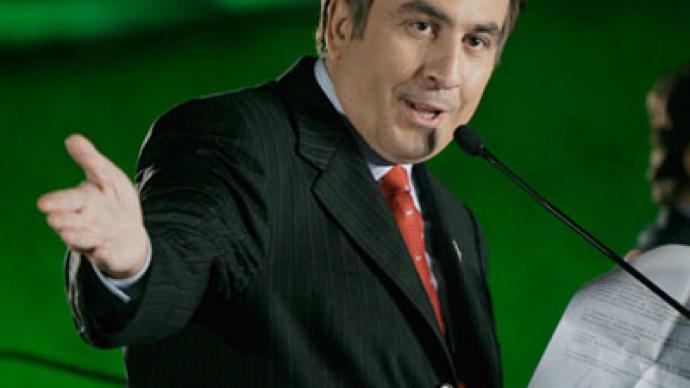 Billionaire politician Boris Ivanishvili has told the press that when his yet-unregistered party wins the parliamentary elections President Saakashvili will face impeachment.
"If Saakashvili does not decide to resign by then, we will consider the question of impeachment," Ivanishvili said at a press conference in the Georgian capital, Tbilisi. He acknowledged that the party has not yet been formed and his participation in Georgia's political life is still under question, but said he was confident of his convincing victory in the elections. "Saakashvili cannot rig the elections and cannot win in them if the competition is fair," Ivanishvili said. President Mikhail Saakashvili recently stripped Ivanishvili of Georgian citizenship and, according to Georgian law, this prevents him from taking part in public politics, even as a sponsor. Ivanishvili said that depriving him of citizenship was illegal and expressed confidence that if Saakashvili does not reinstate the citizenship, the Georgian people and the international community would force the president to do so. Ivanishvili also said that he and his team were working on other possible scenarios of political struggle and that the party would exist and function under any conditions. The businessman also briefly described the basic plans of his future party. He promised that after the victory he would start a constitutional reform, to create an independent court system, to deprive the media from the authorities' pressure and to get rid of the elitist corruption. He also said that the party would boost the investment climate in the country and this will help to solve the problem of unemployment. 56-year-old Boris or Bidzina Ivanishvili was born in Georgia, but has lived in Russia since the 1980s. Russian Forbes magazine ranks the businessman, worth an estimated $5.5 billion, in 25th place among Russian billionaires. On October 7 this year, Ivanishvili said he was entering politics with the intent to oust incumbent President Mikhail Saakashvili, whom he accused of authoritarian rule and intention to stay in power at any cost. The businessman said he was selling his multibillion assets in Russia and relinquishing his Russian citizenship (currently the businessman is a citizen of Russia, France and Georgia). Soon after this statement, Georgian authorities stripped Ivanishvili of his citizenship, effectively ousting him from national politics.