Russians want protest vote to be returned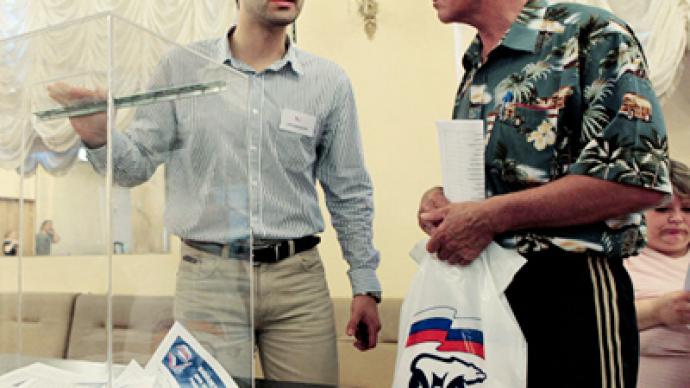 A poll conducted by the independent Levada-Center has revealed that most Russians support the return of the "against all" option on the election ballot.
The vast majority of those surveyed (73%) have said they agree that the option should be included on the ballot along with the candidates. Only 11% of respondents do not support this kind of protest vote. The line "against all" was eliminated from the ballot in 2006, before the 2007 parliamentary election. This followed a Constitutional Court decision which ruled it was in violation of the constitution, as the "virtual" candidate appeared on the list along with real politicians. Another question sociologists asked was whether Russians believe the forthcoming parliamentary election this December will be transparent. According to the study, 54% expect that "dirty technologies" such as mudslinging and voter pressure will be used in the run-up to the election. However, 29% are convinced the election is going to be free and fair. As for the election campaign, about a third of respondents (35%) think there will actually be real competition, while 53% believe that it will be "an imitation of an election and seats in the State Duma will distributed as the authorities wish." 59% consider the parliamentary election to be "a struggle of bureaucratic clans for access to the state budget". About half as many (28%) believe it to will be a real democratic undertaking. The poll has also revealed that Russian citizens want the liberalization of election legislation. 46% are in favor of lowering the vote threshold, as well as a return to single-seat election districts (49%). Last week, a group of opposition leaders have called on all those who disagree with the incumbent authorities policies to "actively ignore" the election. Under the current law, there is no voter turnout threshold for the election to be recognized as valid. So their suggestion is either to "ruin" the ballots by ticking the names of multiple candidates, or simply taking them home from the polling station. Another poll, released by the All-Russia Public Opinion Study Center (VTSIOM) last week, showed that protest sentiment is not so important and wide spread as to significantly impact the election. According to its results, almost half of Russians (49%) would vote for the majority United Russia party if elections took place this July.