Activists fight for right to rally - literally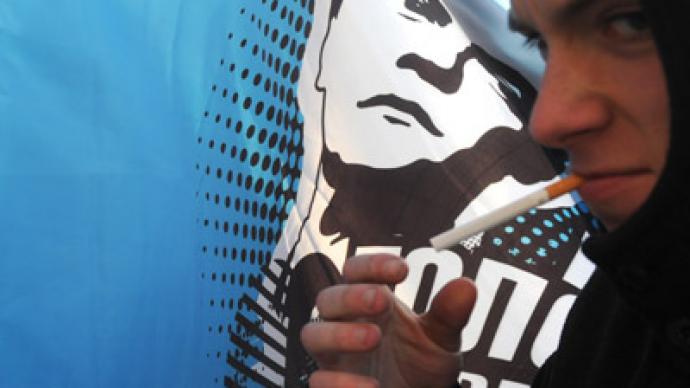 Opposition supporters planning to rally for fair elections on March 5, the day after Russia's presidential poll, have got into a fight with pro-Putin youth movement members as both groups queued to submit requests to hold their demonstrations.
Representatives of the For Fair Elections group and members of the Nashi and Young Guards youth movements lined up near the Moscow Mayor's office overnight on Sunday. Both groups wanted to be the first to submit their application to hold a rally on March 5, and thus have the priority right to the best location. Police detained two participants of the fight. On Monday morning, head of the pro-Kremlin Young Russia youth movement and former State Duma deputy from the United Russia party, Maksim Mishchenko announced that he was the first to submit an application for a rally in Lubyanskaya Square in central Moscow.Head of the Left Front fringe opposition movement Sergey Udaltsov quickly accused the pro-Kremlin activists of foul play. According to him, Mishchenko submitted the application through the back door. Udaltsov added that his own movement also submitted an application which, by law, should take priority.Udaltsov also said pro-Kremlin activists obstructed the entry to the mayor's office for State Duma deputy Ilya Ponomaryov and even tore off the sole of Ponomaryov's boot. Udaltsov told the press he wanted to take the sole to Monday's meeting between President Medvedev and fringe opposition as such tensions, in his view, clearly showed that the date of the presidential election must be moved.Moscow Mayor Sergey Sobyanin has ordered a probe into the incident. The deputy mayor in charge of street rallies, Aleksandr Gorbenko, told the press he would contact both parties to get the details.Gorbenko said later in the day that the mayor's office will take the activists' behavior into consideration when making the final decision on whether to allow the requested rally or not. "I think any normal person who saw the way they submitted their application would draw certain conclusions about the type of events these will be, how aggressive they would be," the official said.
You can share this story on social media: