Russian Nationalists attack plans to build more mosques in Moscow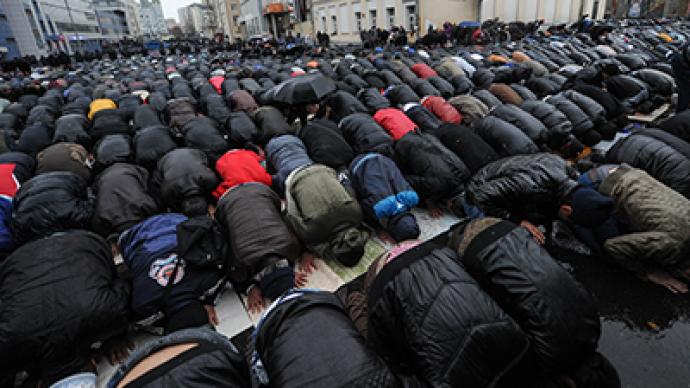 Moscow city authorities are about to announce the allocation of plots of land for three new mosques in the city, but ethnic Russian nationalists have voiced their protests saying that no one asked local residents before passing this decision.
"We need to ask local residents. We should follow the European practice of taking local opinion into account in everything," Aleksander Belov of the Russkiye movement told the press. In his opinion such practice would ensure that everything goes in a peaceful and calm manner. Belov's statement came as a comment to a newspaper article that stated that Moscow city authorities will soon allocate land for the new mosques. The Izvestia daily referred to a representative of a public movement called Spiritual Directorate of Muslims of European Russia who said that the exact sites are already fixed and thanked the city for paying attention to his co-believers. In the same article the newspaper quoted top city officials who doubted the efficiency of the step. Mayor Sergey Sobyanin said that the city needs no new mosques, adding that the majority of those who attend Muslim sites are unregistered labor migrants and once they are dealt with the need for new sites would disappear. The Speaker of the Moscow City Legislature Vladimir Platonov noted hat apart from discussing new places of worship with religious representatives, those responsible must poll local residents and base the decisions on the local mood.Interestingly, after news agencies spread the report, the city authorities refuted it. The head of the city department for investment in construction wrote a letter saying that the land plots for new mosques have not yet been negotiated. The official added that the mayor's office has a special working group determining the need for various religions in the city's many districts, but this group has not yet taken any decisions whatsoever regarding mosques. According to the latest poll, the proportion of Muslims among Russians has reached seven percent this year compared to just four percent in 2009. The share of Russian Orthodox Christians is now 74 percent compared to 80 percent in 2009.