Leader of Russian Orthodox Church urges crackdown on radical groups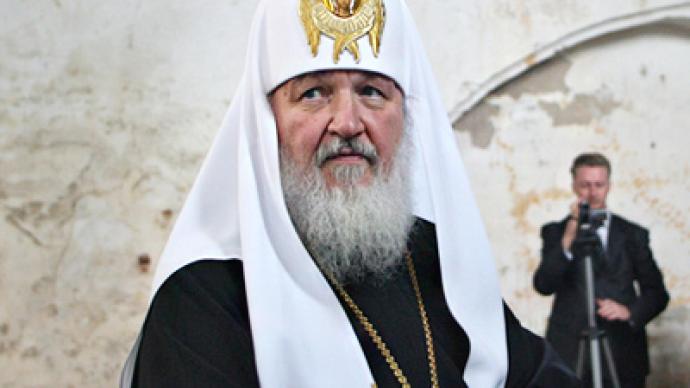 Ethnic tensions and hate crimes are endangering Russia's progress and should be stopped at all cost, says Patriarch Kirill of Moscow and All Russia.
Speaking just days after a spate of ethnic violence rocked the center of the Russian capital, the leader of the Russian Orthodox Church called for a crackdown on radical groups.
"A crackdown on far-right movements is the path we must follow today in order to lead interethnic relations out of their current dangerous state," Patriarch Kirill told reporters on Tuesday in response to Saturday's riot on Manezhnaya Square in central Moscow.
The Patriarch then added that there needed to be ways to make sure that such groups are not able to disrupt civil society.
"It is necessary to create a gap between radical groups and law-abiding people," he told Interfax. "There is a need to create conditions that would make it impossible for any radical groups to function, including both among ethnic minorities within communities and the core majority."
Saturday's riots were said to have been sparked by the December 6 death of Spartak football fan, Egor Sviridov, who succumbed to injuries inflicted by a weapon that fired rubber bullets.
A suspect from the Caucuses is in police custody pending an investigation.
According to city police, over 5,500 people took part in the riots that broke out a stone's throw from the walls of the Kremlin. The protesters chanted nationalist slogans, burned flares and hurled smoke bombs.
The Russian Patriarch stressed that a victory against racial hatred requires efforts on the part of the government, public organizations and the Russian Orthodox Church, as well as the followers of other faiths.
"All of us should work to lower the degree of radicalism and to prevent the destruction of interfaith and interethnic peace, only thanks to which Russia continues to be a great state," Kirill said. "Any provocation of ethnic hatred poses a challenge to the very existence of our multinational and great Fatherland."
Following a 70-year silence under communism, the Russian Orthodox Church is enjoying resurgence and now numbers over 135 million followers worldwide. Up to 65 per cent of ethnic Russians and a similar percentage of Belarusians and Ukrainians identify themselves as belonging to the Orthodox Christian faith.
A total of 66 people were detained by police during Saturday's public disturbance, while another 60 individuals were charged with administrative offenses, such as disobeying police orders, Interfax reported, quoting a police source.
It was also reported that 32 people were taken to hospitals following the clashes, six of whom were admitted due to the nature of their injuries. The rest were discharged after receiving medical assistance.
On Sunday, Russian Football Union President Sergey Fursenko said that using sports for political aims is unacceptable.
"Politics is off-limits when it comes to football," he told Interfax. "We will not allow some protests to provoke us. No party or movement will be able to force us to chant their [misguided] slogans."