Govt moves to soften punishment for illegal rallies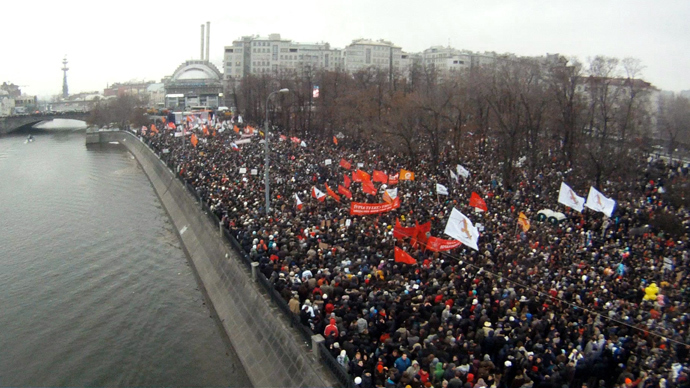 The Russian government has sent some amendments to the fresh law on rallies to the Duma after the Constitutional Court found flaws in some articles of the act.
The amended bill gives some latitude to organizers of street rallies. After it is passed, law enforcers will have to prove that the organizers were breaching their duty of care before apportioning responsibility over any harm sustained by participants of street events.
The bill also scraps the minimum number of participants required for the street event to be recognized as public (currently the minimum number is 100 people).
The government also suggested broadening the bill so that any Russian city or town could have a dedicated place for demonstrations and rallies without the authorities' approval (Russian mass media refer to such places as 'Hyde Parks'). Presently, such moves are regulated by regional legislatures and the 'Hyde Park' rules differ around the country.
The government's initiative comes after in February this year the Constitutional Court ruled that the current Federal Law on Rallies contradicts the Russian Constitution in parts where it orders forced labor as punishment for violating the rules of public street actions. However, the judge who announced the verdict said that despite these flaws there were no sufficient grounds for canceling the law and only urged corrections.
The fresh Russian Law on Rallies was passed hastily in June 2012 – a short time after a large-scale protest rally in Moscow erupted in riots and clashes with police that led to arrests and criminal prosecutions. Russian investigators also detained several leftist activists and now they stand trial over charges of preparing and organizing the unrest with the use of foreign sponsorship.
The new law greatly increased the fines for violating the strict rally rules and was met with harsh criticism from Human Rights activists – both from NGOs and the official bodies.
Nevertheless the law came into force and Hyde Parks have already started operating in several Russian cities and towns.

You can share this story on social media: