State Duma backs down over fines for illegal rallies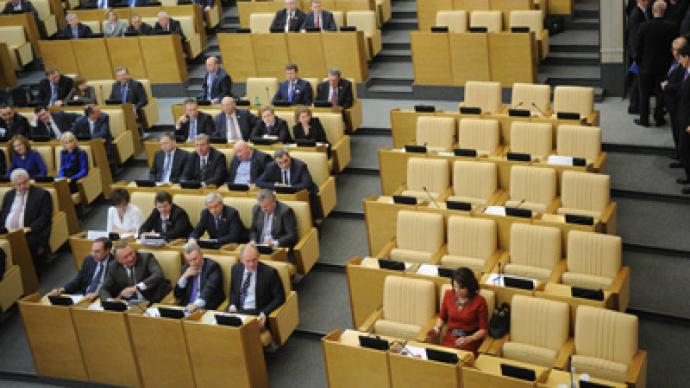 The parliamentary committee for legislation recommends dropping the suggested maximum fines for violations at street rallies, but still suggests that the fines should be raised significantly overall.
The committee, dominated by the parliamentary majority United Russia party that initiated the bill, recommended that the deputies drop the maximum fine from the initially-suggested 1.5 million rubles (under US$50,000) to 600,000 rubles (about $20,000).The fines were lowered after numerous protests from the parliamentary opposition, who claimed that the bill was aimed not aimed at punishing hooligans and extremists, but rather at intimidation of the citizens who are discontent with the situation in the country and take their protests to the streets.The opposition noted that the average monthly salary in Russia is about 20,000 rubles and thus ordinary citizens will be unable to repay the fines as first proposed.At the same time, the amended bill now defines a "mass simultaneous presence of citizens in public places" as a violation if it caused damage to property or prompted a police alert.If passed, this paragraph is set to deprive the opposition from the already established practice of describing protest marches as mass walks that cannot be punished or broken up.The first reading of the bill was approved by the lower house on May 22, but the MPs noted that the bill must be significantly changed before the second reading. The Duma Committee considered 380 amendments submitted by various parties and organizations.The leftist parliamentary opposition party Fair Russia attempted to use the procedure of submitting the amendments as a form of protest – the MPs hoped that numerous papers submitted one after another would turn the State Duma sessions into an endless and boring chore.However, members of the committee belonging to United Russia sped up the procedure to such an extent that it took them only 10 seconds per amendment and the entire Fair Russia plan failed. One of the initiators of the move, MP Gennadiy Gudkov, wrote in his blog that the real attack on the bill would, though, commence during its second reading. The Presidential Council for Human Rights also strongly opposed the new bill, but apart from offering amendments to it, the members of the council said that they would ask President Vladimir Putin to veto the bill and order to consider it in the first reading again. The second reading of the bill is scheduled for June 5.
You can share this story on social media: