Moscow accuses US envoy of unprofessionalism
Published time: 28 May, 2012 23:18
Edited time: 29 May, 2012 04:05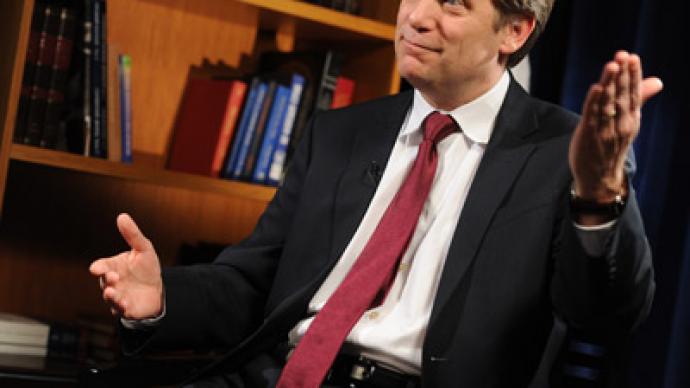 The Russian Foreign Ministry has lashed out at US Ambassador to Russia Michael McFaul over his remarks on US-Russian relations, including an accusation that Moscow bribed Kyrgyzstan to close a US air base there.
The Foreign Ministry said it was "extremely perplexed" by McFaul's remarks, made at a meeting with students of the Higher School of Economics on Friday.
"His assessments of interaction between Russia and the US go far beyond diplomatic etiquette in form and are an intentional distortion of some aspects of the Russian-American dialogue in substance," it said in a statement on Monday.
The Foreign Ministry added that this is not the first time statements and actions by "Mr. McFaul, who holds such a high post, cause confusion."
The US envoy replied to the criticism saying in his Twitter account that he is "still learning the craft of speaking more diplomatically."
The ministry stressed in its statement that the Russian leadership does not use the term "sphere of influence" in political practice, including with regards to Kyrgyzstan.
Moscow called for more "predictability and transparency" from Washington regarding its policy in Central Asia. It noted that ten years ago, the George W. Bush administration assured Moscow that the US military base in Manas, Kyrgyzstan, would only be used a year or two.
"We understand that there is a different administration in power in Washington now, but this does not solve the problem of the predictability and transparency of American activities in Central Asia. The ambassador should be able at least to explain the discrepancy between what is said and what is done," the ministry said.
Adding to the criticism, the Foreign Ministry raised an eyebrow at McFaul's remarks over RT America's broadcast in the United States.
"It is also hard to understand why such an advocate of the freedom of speech as McFaul decided to cast a shadow on the highly professional work of the Russia Today television channel in the United States," it said. "It would seem that he should be pleased by the fact that American citizens have additional sources of information."
In response to that, McFaul said in his Twitter account: "As I said before, we have no objection that Russia Today is on the air in US."