$10MN for State Duma seat - Russian MPs suspected of major fraud
Russia's top law enforcement agency is seeking to strip two MPs of immunity as they are suspected of attempting to sell a place in their party's electoral list for almost $10 million.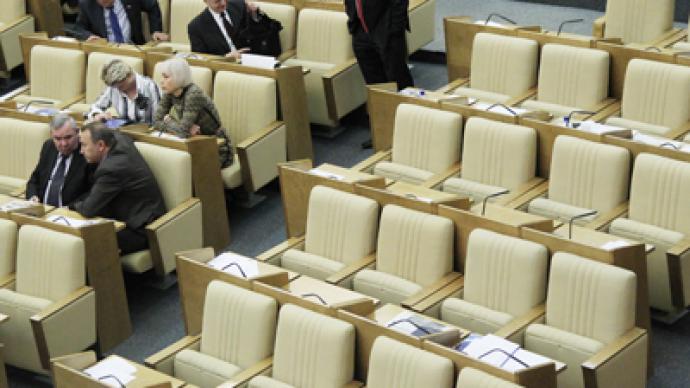 The Federal Investigative Committee has reported through its web-site that investigators had established the complicity of two parliamentarians, Oleg Mikheyev of the Fair Russia faction and Konstantin Shirshov of the Communist Party, in the attempted fraud. The two politicians allegedly promised a businessman to include him in a number of parties' electoral lists ensuring he would gain a place in the Lower House. According to investigators the MPs asked €7.5 million, or just under $10 million for their services. According to the law enforcers, in July 2011, Shirshov together with several accomplices received a part payment from the businessman, amounting to 66 million roubles or about $2.1 million. Two of the accomplices were later detained tried and sentenced and one is currently on trial, the committee's report reads.In addition,the Investigative Committee has conducted a probe into the alleged theft of 500 million rouble's worth of real estate along with a 2.1 billion rouble financial fraud and obstruction of justice by MP Mikheyev.In accordance with Russian law the investigators have forwarded to the State Duma an official request to strip the two MPs of parliamentary immunity so that they can face criminal charges. The head of the Lower House Regulations Committee told the press on Tuesday that the State Duma has not yet received the investigators letter, but once it arrives, it is very unlikely parliament will gather for an extraordinary session. "We will decide on all these issues in the coming year," Sergey Popov stated.Over the past year the Lower House already lost two of its members for taking part in business activities which is currently banned for MPs. Gennadiy Gudkov of the Fair Russia Party was expelled by the State Duma vote and Aleksey Knyshov of United Russia voluntarily gave up his place after his business dealings were uncovered. Gudkov and his party colleagues have denounced his removal from the Duma as political repression. However, after leaving parliament no criminal case was brought against him.
You can share this story on social media: