Russian court rules gay pride events are not propaganda – activists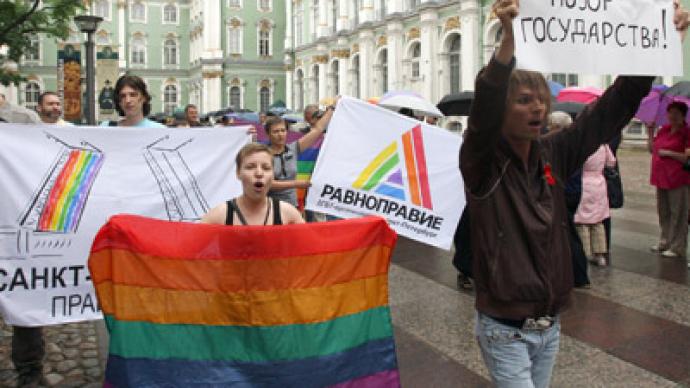 Russian gay rights group LGBT Network claimed that the Supreme Court will not classify gay pride parades and other public declarations of sexual preference as gay propaganda, and such acts will therefore not be restricted by recent legal limitations.
The LGBT Network's press office announced that the Supreme Court has done what the activists themselves have sought for a very long time: Provide an official definition of 'propaganda of homosexuality.' According to the ruling, only direct appeals to the underage for homosexual relations qualify as such. "I personally have never encountered any examples of such propaganda," Igor Kochetkov, chairman of the LGBT Network was quoted by the Rosbalt news agency as saying.The ban on the propaganda of homosexuality therefore does not cover the access to or distribution of neutral information on homosexuality, or public debates on the social status of sexual minorities, the group said.The Supreme Court's ruling concerned the recent legal ban on gay propaganda to minors issued by legislature in North Russia's Arkhangelsk Region. LGBT activists contested the ruling, and the case eventually reached the Supreme Court. Earlier this year, Russian politicians initiated a major campaign against so-called homosexual propaganda. A law against the public promotion of homosexuality and pedophilia was approved and enacted in St. Petersburg and in several other regions, including Arkhangelsk. A group of State Duma MPs also proposed the national passage of a similar law.The law has already resulted in prosecutions, with two men in St. Petersburg detained for displaying a poster reading 'Being gay is normal' on a street near a kindergarten.The Moscow City Court has issued rulings twice banning all LGBT pride events in the Russian capital for the next century, after gay rights activists submitted a request for the events. The activists, however, claimed that they were satisfied by the rejection, which they required to file an appeal to the International Court of Human Rights. The international court is currently investigating decisions by Moscow authorities to ban LGBT pride events in 2006, 2007 and 2008.
You can share this story on social media: