2 million citizens back Communist 'no confidence in govt' bill – MP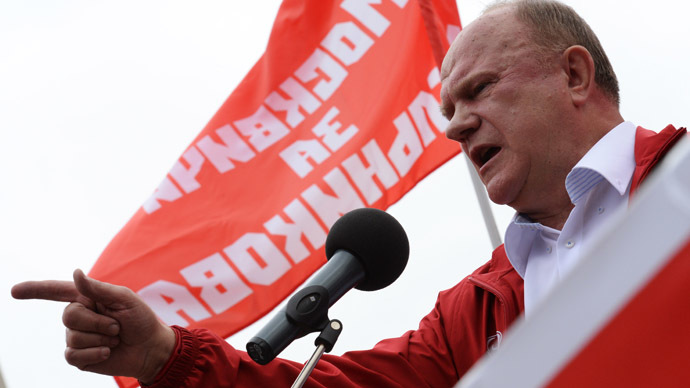 A senior Communist party MP said 2 million citizens had signed a petition calling for the dismissal of the government chaired by Dmitry Medvedev and the forming of a 'national unity' cabinet.
Communist Party Secretary Sergey Obukhov announced the news at the Friday plenary session of the State Duma and confirmed his comrades' intention to submit the initiative to parliament "before the next anniversary of the Great October Revolution" (which is marked on November 7).
The MP also added that apart from millions of handwritten signatures, the petition had collected 130,000 signatures on a dedicated web-site which automatically obliges the State Duma to consider it as a legal initiative. The internet document surpassed the required threshold of 100,000 signatures by the end of the Spring session of the Duma, but the Communists decided not to submit it till the autumn, because this would make it easier for opponents to silently reject the move.
Another top Communist MP, deputy Duma speaker Ivan Melnikov posted the full text of the address in his blog, listing 10 reasons for government dissolution. These included accusations of poor economic and financial policies, protest against the plans to continue privatization of state property, and the membership of the WTO, which, according to the Communists, is harmful to the Russian economy. The leftists predictably are against the reduction of state social security payments, the decrease of state participation in science and technology, and the allegedly poor performance of the nation's defense and security sectors.
Melnikov also wrote that the current cabinet should be replaced by a "cabinet of national interests and national trust" described as "a team of professionals who would overcome the policy of decadence and return the country to the path of dynamic and stable development".
The politician called upon citizens to throw more support behind the planned move.
United Russia currently holds 238 of the 450 Lower House seats which gives the Communists' initiative a chance only if some MPs within the majority party caucus decide to support it. Presently there are no signs that this could happen.
You can share this story on social media: