New citizenship shortcut for Russian-speakers of Soviet, Imperial ancestry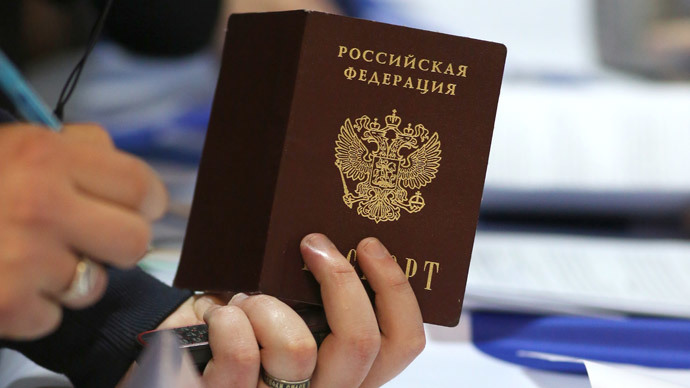 President Vladimir Putin has signed into force simpler and faster rules for granting citizenship to people who speak Russian, and have at least one ancestor who was a permanent resident of any state within the borders of the current Russian Federation.
The bill on the simplified granting of Russian citizenship becomes valid today Monday, April 21. Apart from the citizenship fast track, people who comply with the new conditions have less stringent conditions for entering Russia or extending their temporary residence permit.
Under regular rules, those applying for Russian citizenship must be over the age of 18, successfully pass a Russian language test and be legally and continuously residing in the country for five years. In addition, Russian citizenship could be granted to a foreigner for his or her merits and achievements – such as athletes who became Russians in order to join Russian national teams.
To benefit from the new program, a person must have documented proof that at least one of his or her direct ancestors was a permanent resident of the Soviet Union or the Tsarist Russian Empire who lived on the territory of the current Russian Federation. Another condition is good command of Russian, but a complicated and lengthy exam is replaced with a simpler interview.
While most of the candidates would have to renounce their foreign citizenship to become Russians under the new procedure, exceptions are made in cases when doing this would be legally impossible. The program also can be applied to people without citizenship, which is the case for many ethnic Russians who live in the Baltic states but cannot obtain the citizenship and live under non-citizens status.
The new act is a part of a broader campaign aimed at attracting qualified and trained specialists from abroad. Other bills have included allowing citizenship to foreigners who invest at least 10 million rubles ($285,000) in the Russian economy, and foreign students who graduate from Russian universities and then legally use their skills inside Russia for at least three years.
At the same time, lawmakers are suggesting tougher punishment for concealing double citizenship and banning it for senior state officials.These draft laws have not yet been considered by parliament.
You can share this story on social media: