Russian weapons chief launches own political movement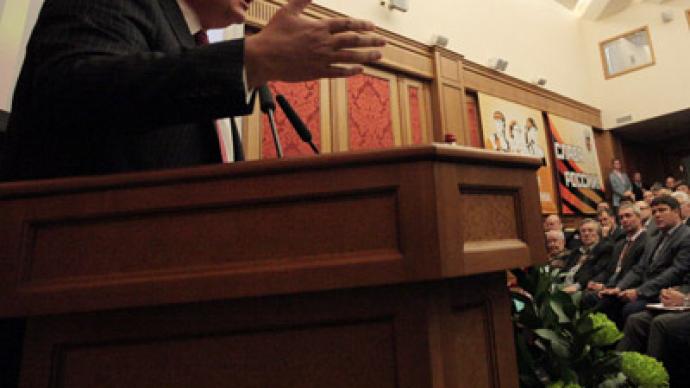 Russia must use all modern political and PR techniques to counter its foreign enemies Dmitry Rogozin told the founding convention of the movement for support of the military forces and defense industry.
The Deputy Prime Minister in charge of the military-industrial complex said Russian authorities must be one step ahead of those who consider Russia an irritating and visible obstacle. He added that campaigns in new media were aimed at the destruction of Russian state power."The state power is always destroyed when the cultural code is destroyed, the heart of people's culture. This is done by means of social networks, through the new tools and we must understand that these tools are aimed against us, against our country," Rogozin noted.He added that Russia is currently facing the crumbling of the foundations that ensured peace and security in the whole post-war period, and urged the authorities to arm the people with the newest political and PR technology that are used by the enemies of the Russian state. In the speech before the convention Rogozin talked of the movement's objectives – to assist the course for modernization of the military forces and weaponry currently undertaken by Russian Military leaders.He also said that a number of well-planned scandals had recently taken place in the country, including "the outspoken trick of certain damsels in the Christ the Savior Cathedral". "They are consciously delivering their blow to the Russian Orthodox Church – this is a test for us, a test on how we would behave in such situation… Who do they think we must forgive, those who attempt to spit in our hearts?" Rogozin asked the members of the movement and then ended his address with the slogan "Glory to Russia!"Rogozin, who in January this year suggested to recreate the Movement in Support of the Army, Air Force, Navy and Military industry, a loose copy of the Soviet-era mass movement DOSAAF, was elected to the movement's presidium. The convention also approved of the new name for the movement – DON which is a Russian abbreviation for Special Destination Movement and also the name of a major river in the South of Russia. Deputy head of the Lower House Committee for Defense, LDPR MP Sergey Zhigarev was elected chairman of the movement. Other members of the presidium include the head of the Cosmonauts' Training Center General Sergey Krikalev, Air Force General Makhmud Gareyev, Chairman of the Academy Military Studies MP Sergey Gavrilov, Chairman of the Russian Paratroopers' Union General Valery Vostrotin, chairman of the still existing DOSAAF General Sergey Mayev and others.