Russian veterans request political reassessment of Afghanistan war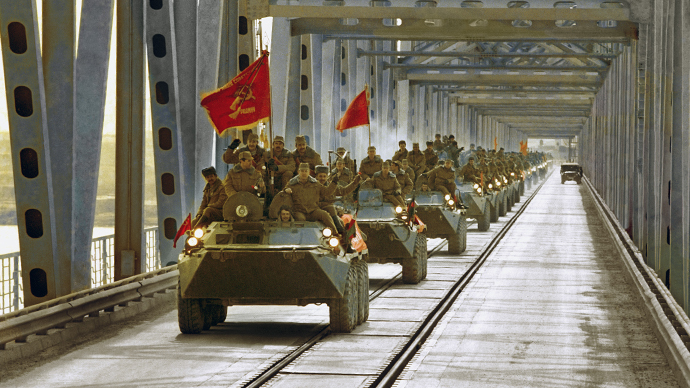 The head of the Union of Afghan War Veterans is to ask the Russian President to reconsider the negative political assessment of the Soviet Union's military intervention in Afghanistan.
Frants Klintsevich was speaking at a conference dedicated to the 25th anniversary of the withdrawal of Soviet troops from Afghanistan.
Klintsevich, who is also a Lower House MP representing the United Russia Party, claimed that the "politically and legally groundless assessment of the Afghan war as a failed and reckless attempt" leads to many decisions concerning veterans not being fullfilled. The MP said he was going to address the Commander-in-Chief of the Russian military, President Vladimir Putin, with a request to revise the attitude to the conflict.
The deputy said that according to official statistics the Soviet military lost 15,000 people killed and over 50,000 wounded in Afghanistan. 417 servicemen were taken prisoners and only a third were returned home. Over 200,000 Russian servicemen were decorated for bravery during the war.
Russia deployed military forces in Afghanistan in 1979 after repeated requests by the Kabul government trying to suppress armed Islamist opposition. The war lasted for over nine years and ended in early 1989 with complete withdrawal of Soviet troops. The pro-Soviet government survived for three more years and fell only after the collapse of the Soviet Union when it stopped supplying weapons and goods.
In December 1989 the Congress of People's Deputies – the supreme legislative body of the Soviet Union – passed a resolution which condemned the military intervention in Afghanistan as politically and morally wrong. The same congress ordered changes to the Constitution that would set concrete rules for military aid to foreign countries and also asked the government to launch a state rehabilitation program to help veterans and the families of those killed.
On February 15 Russia and other ex-soviet states are celebrating the 25th anniversary of final withdrawal of Soviet troops from Afghanistan. Ukraine and Moldova officially made 2014 the year of veterans of the Afghan War. All countries of the Russia-led political bloc the Commonwealth of Independent States have agreed to issue commemorative medals to be awarded to veterans.
You can share this story on social media: