Russia urges stop to flow of Afghan opium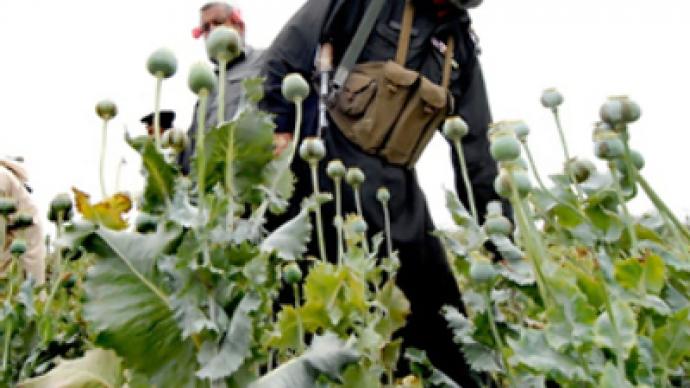 The Russian Parliament says the international forces in Afghanistan must take urgent steps to curb illegal drug production in the country, and Moscow can help to deal with the problem.
In a statement published on Wednesday, Russian MPs say they are greatly concerned with the sharp rise of illegal drug production ever since the country was captured by the international coalition from the Taliban movement. According to UN data, the figure has surged by 42 times since 2001, and reached 7,700 tons of opium annually, making Afghanistan "a world monopolist" in the criminal trade.
"The ongoing military confrontation in Afghanistan and lack of security in the country hinder legal agricultural industry and stimulate narcotics production. The profits from the business are the main source of financing terrorist and extremist activities," the statement said.
The document adds that while most areas where opium puppy is grown are located in the southern part of Afghanistan, the more controlled north is far from being free from illegal production. The north has thriving cannabis farms, and it's also the place where numerous undercover labs producing drugs are located.
Afghani drugs smuggled into Russia are a major threat to its people, according to Victor Ivanov, the head of the national drug-fighting agency. Mr. Ivanov delivered his report to the parliament on Wednesday.
Russian security agencies have seized 1.5 tons of heroin produced in Afghanistan since the beginning of this year, he said. This is but a small fraction of the reserves held by the drug lords now.
"In Afghanistan, more than 3,000 tons of heroin are stored – it's a sort of future generation fund," Ivanov said.
According to the chief drug enforcer, 90% of abusers in Russia use drugs of Afghani origin.
Commenting on the situation, Parliament Speaker Boris Gryzlov put the blame on the countries which have their troops stationed in Afghanistan.
"The State Duma draws attention to the member countries of the anti-terrorist mission in Afghanistan, that the de facto uncontrolled growth of drug-related crimes in the country is their responsibility," he said.
Russia and its allies from the Collective Security Treaty Organization (CSTO) are interested in solving the problem, which threatens their national security, Gryzlov said. He also indicated that the potential of cooperation between the coalition and the CSTO is yet to be realized.
Gryzlov said the SCTO has its own successful program to combat international crime in the region, and the member countries could contribute to a common effort with international troops in Afghanistan, should it be established.
You can share this story on social media: