'Elections in Syria better late than never' - Lavrov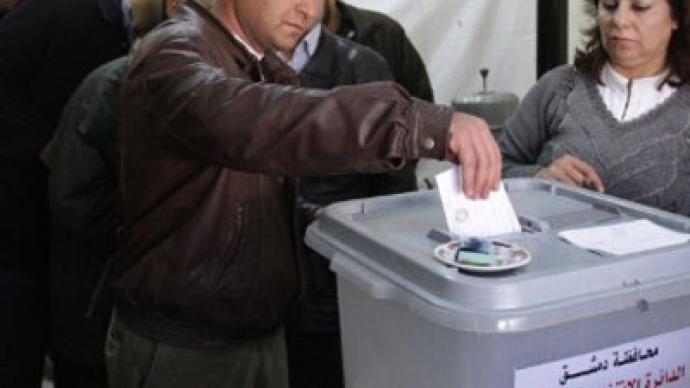 As Syrian authorities announce the adoption of a new constitution, Russian and European diplomats discuss a new UN Security Council resolution aimed at ending the civil strife in the embattled Arab republic.
­Foreign Minister Sergey Lavrov hailed Syria's decision to adopt a new constitution as a means for ending the protracted political crisis, which has caused a bloody standoff between forces loyal to President Bashar al-Assad and anti-government protesters.
"Of course, we believe that the adoption of a new constitution in Syria is a step forward towards political pluralism," Lavrov said following talks with his Dutch counterpart Uri Rosenthal in The Hague on Wednesday.  
Lavrov, hopeful that elections would be held in Syria at the end of May in compliance with the new constitution, described the move as "better late than never."
Meanwhile, the Russian minister said Moscow is prepared to continue discussions on a UN Security Council resolution – as long as it takes into consideration Russia's concerns.
Noting that Russian and EU diplomats "discussed the potential of new consultations on Syria in the UN," Lavrov stressed that Moscow has "always advocated consultations."
Lavrov explained that Russia and China vetoed the latest resolution on Syria "because our Western colleagues had closed the door on further consultations, telling us that they would no longer listen to our commentaries and putting this resolution to a vote in an ultimatum-like manner."
Although the authors of the resolution had taken Russia's demands into account by removing the provision on the imposition of sanctions on the Syrian authorities, while agreeing the document cannot be used as a pretext for external interference, it nevertheless carried proposals that did not suit Russia and China, he said.
"The resolution demanded that the Syrian government immediately pull out all armed forces from cities," Lavrov explained. "We insisted that a provision be added, saying that the armed groupings must do the same. That was categorically rejected."
Lavrov said consultations on a new resolution will continue on Thursday, when he is scheduled to meet his French colleague Alain Juppe.
"Tomorrow, I will meet my colleague Mr. Juppe in Vienna, and will be ready to listen to what he wants to tell me," Lavrov said.
Asked by journalists what he thinks of the new resolution, Lavrov responded: "It is impossible to give an answer to such a question without having the text at hand."