Russia calls for 'efficient influence' on Syrian opposition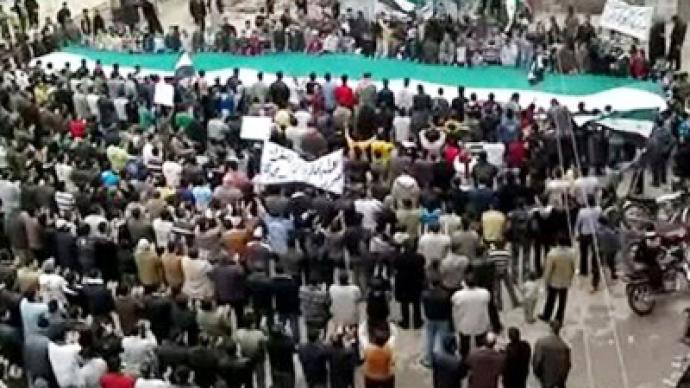 In an effort to stabilize the situation in this embattled Arab Republic, Russia is calling for some degree of influence exerted on the Syrian opposition, which has been rebelling against the government of President Bashar al-Assad since January.
Russian Foreign Minister Sergey Lavrov forwarded Russia's concerns in a telephone conversation with US Secretary of State Hillary Clinton on Tuesday evening.

In a statement released by the Russian Foreign Ministry, Lavrov and Clinton "considered problems of work with the Syrian parties in the context of the Arab League initiative," it said.

"Lavrov emphasized the importance of efficient influence on the opposition in the interests of stabilizing the situation in the country," it said.

In an effort to avoid another contentious Libya-style military operation, Russia and others, including the Arab League, are calling for more measured actions to bring about peace in Syria and end a conflict which has resulted in numerous casualties on both sides.

Damascus on Monday accepted the Arab plan, which calls on Syria to immediately end the violence and withdraw security forces while allowing international monitors to measure compliance.

The Syrian government's agreement to the Arab League plan received a mixed response from the opposition, including the Syrian National Council, which says the move is not as positive as the Syrian government would like to make out. They say it is "a ploy" on the part of the Assad government and have renewed their call for outside intervention.

Meanwhile, the so-called National Coordination Council, a group situated inside the country, welcomed the move and expressed hope that it would be implemented properly. As for international intervention, it could disrupt the country, they said, and therefore could not be approved.

On other important issues, Lavrov and Clinton discussed the situation in North Korea, where the communist country is in a state of national mourning over the death of Kim Jong-il.

"The ministers exchanged their opinions on important international issues. Particular significance was attached to the situation on the Korean Peninsula," the Russian Foreign Ministry said in a statement.