Anti-drug campaigner joins mayoral race in Russia's Yekaterinburg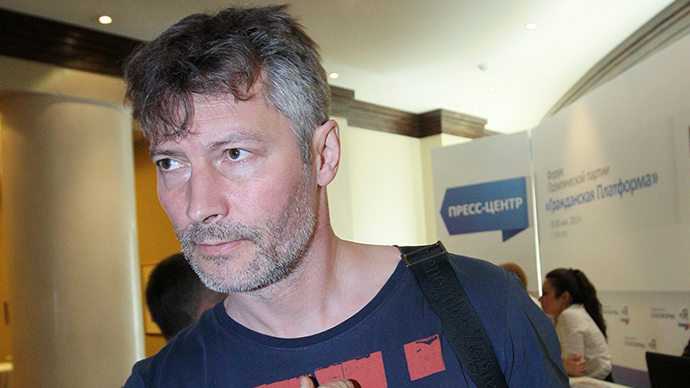 One of the most colourful figures in Russian politics, the founder of a makeshift drug rehab, ex-convict and a controversial blogger, Yevgeniy Roizman, has joined the mayoral race in his native city of Yekaterinburg.
Roizman is running on a Civil Platform political party ticket. It is a relatively young political project headed by billionaire Mikhail Prokhorov. Prokhorov and Roizman have been allies since 2011 before the parliamentary poll. Then, Prokhorov attracted the activist to the Right Cause party that the billionaire has just agreed to sponsor and head. The party veterans (including the grand master of the all-Russian freemason lodge Andrei Bogdanov) protested against Roizman's membership and eventually Prokhorov and his allies had to leave and found a new party of their own that later became the Civil Platform.
Roizman's political experience is much longer than his patron as he was a State Duma deputy between 2003-2007 and attempted to run for parliament from the Fair Russia party in 2007 but was taken off the election list after a conflict with Fair Russia leaders.  Roizman then briefly fell out of politics and concentrated on running and promoting the extremely controversial project "City Without Drugs".
City Without Drugs was founded in 1999 by Roizman and several of his close friends who claimed that the situation with illegal drugs in Yekaterinburg – a major industrial city in the Urals - was too dire for ordinary citizens to put up with the situation. The foundation established a free hotline and soon started running operations in which activists raided drug dens together with the police helping to incriminate the dealers. Roizman also openly confronted local police authorities saying that they cooperated with drug dealers, making many enemies but also gaining great public support.
The activists also opened several so called rehabilitation centers for drug addicts. These centers do not use any medical methods, relying instead on long-term abstinence and labor therapy. Those running the rehab centers say they have written consent from all patients or their parents, but nevertheless such methods as handcuffing people to metal bunks drew criticism from the general public and at some point – the attention of the law.
Roizman, who was one of the first activists to discover the power of the new media and who does a lot of communication through his blog, said that the criticism and criminal cases had been inspired by drug dealers and corrupt officials and vowed to fight till the end.
A number of cases were started in connection with patients' violent deaths and in 2002 two rehab directors were sentenced to prison for torture and inflicting traumas that cased death after they badly beat two patients after a failed escape attempt. In 2009 several activists from  one of the foundation branches were tried for kidnapping and illegal imprisonment, and the head of the rehab eventually got a suspended prison sentence. In autumn 2012 another case was started after a girl patient died in rehab, reportedly of meningitis. However, the media reported that forensic experts found trauma to the body after exhumation and the investigation still continues.
Roizman's critics also point to the activist's  undisguised racism as in his blog posts he often ties the drug trading and trafficking with the ethnicity of those who do this – Gypsies and Tajiks. Roizman has his own criminal record – in the 1980s he served a brief prison sentence for theft, fraud and carrying a dangerous weapon.
After announcing his mayoral ambitions this week Roizman again accused unnamed enemies of attempting to destroy his organization. "People close to me are behind bars or on wanted lists. They openly try to destroy the foundation, to destroy us. We must show them that they would have to take us into account, that this is our city," Roizman said in a press interview.
He also added that he had already received 12 million from Prokhorov for the election campaign, without specifying the currency of the transaction. Besides, Prokhorov promised more funds if such a need arises, Roizman added.
The mayoral elections in Yekaterinburg will take place on September 8, on the all-Russian election day.

You can share this story on social media: