Cause for concern
Published time: 5 Oct, 2011 12:35
Edited time: 5 Oct, 2011 16:35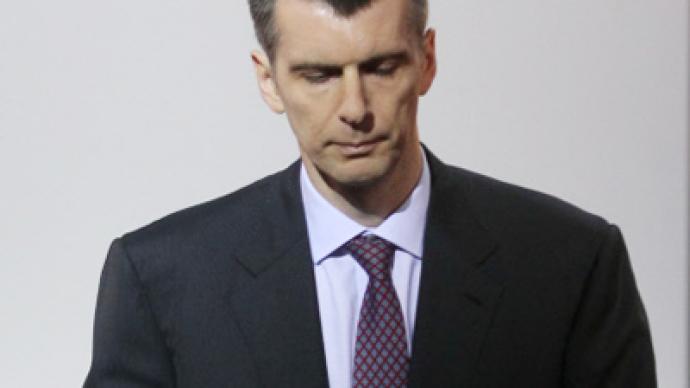 One hundred and thirty-seven companies and individuals have submitted letters to the Right Cause party seeking the return of their donations after billionaire Mikhail Prokhorov was ousted from the project by party veterans.
­Russian news agency Interfax on Wednesday quoted an anonymous source from Mikhail Prokhorov's entourage as saying that the sponsors are seeking the return of a total of 650 million rubles (about US$20 million). Earlier, the press secretary of the Right Cause told the press that the party faced claims of about 100 million rubles (about $3 million), which he promised the party would return.
The source gave details that six companies and 28 private donors had actually visited the Right Cause headquarters with demands to return their money and the rest of the claims had been filed by mail.
The politicians started the financial divorce after Mikhail Prokhorov left the Right Cause during the party's elections convention on September 15. Prokhorov has said that at that moment the party had about 800 million rubles in funds and the Right Cause press secretary confirmed this, though giving the smaller sum of 730 million rubles. The current acting party leader Andrey Dunayev has promised to return all donations if sponsors file official requests.
Prokhorov joined the Right Cause in June and initially personally spearheaded a vocal campaign to raise his party's profile. With the stated aim of securing 15 per cent of the vote in upcoming parliamentary elections, Prokhorov invited several public figures to the party, including controversial anti-drug activist Yevgeny Roizman. Party veterans, including the head of Russian freemasons Andrey Bogdanov, opposed such tactics and also said that the businessmen was imposing an excessively authoritarian rule on the party's regional branches. Prokhorov tried to oust his enemies from the party at the elections convention, but lost and said that he was forming own political organization.
Both sides lost out in the spat – Prokhorov has no time to register his party as the parliamentary poll is due already on December 4, and Bogdanov and his men cannot form a publicly recognizable elections list to submit to the elections commission, as all celebrities left together with Prokhorov. Besides this, Prokhorov was the main source of funding for the election campaign. The billionaire pledged to spend $100 million on the project. But after the split the billionaire said he wanted to return all money that had been forwarded to the party project and give it to charity instead.
After the breakup, Prokhorov told the media that the scandal was backed by the Russian Presidential Administration and promised to talk personally to President Medvedev and Prime Minister Putin in the hope of getting his party position back. However, neither of the Russian leaders has granted Prokhorov an audience.
Soon after the scandal, Medvedev ousted Prokhorov from the Presidential Commission on Modernization and in late September the President said that though he did not feel right to comment on the situation in the Right Cause (Medvedev tops the elections list of the parliamentary majority United Russia), in his personal opinion the party had suffered from a "chronic lack of luck for responsible politicians."