Russia ready for talks with all feasible political forces in Libya – Medvedev
Published time: 1 Jun, 2011 07:06
Edited time: 1 Jun, 2011 16:17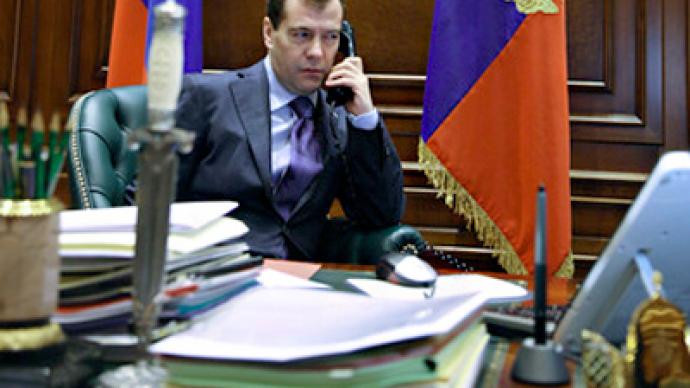 Russia is ready for a dialogue with all forces in Libya that have a political future, Russian President Dmitry Medvedev said while discussing Libyan settlement with his South African counterpart.
­Dmitry Medvedev held telephone talks with South African President Jacob Zuma on Tuesday evening. The two leaders discussed Zuma's visit to Libya on the instructions of the extraordinary summit of the African Union.

As President Zuma was leaving Libya on Monday he said that Colonel Muammar Gaddafi was not yet ready to accept the roadmap suggested by the African Union. Earlier, the plan was rejected by anti-Gaddafi rebels as well.

The Russian presidential press service reported that Dmitry Medvedev said he valued the efforts by the African Union and personally by President Zuma aimed at stopping the bloodshed in Libya and allowing the Libyan people to decide their fate. Medvedev also stressed that it was necessary to hold a dialogue with all forces that have political future in this country.

The two leaders also expressed hope that the co-ordination of mediating actions between Russia, South African Republic and African Union would add to the Libya's soonest return to the path of peaceful and stable development.

Also on Tuesday evening Russian Foreign Minister Sergey Lavrov told reporters that he saw a possibility of compromise in the Libyan conflict. "As far as I can conclude from the talks with representative of Libyan opposition, with Mr. Shalkam and two phone talks with Libyan Prime Minister Mr. Mahmudi, there is a possibility that a compromise will be found," Lavrov said.

He added that the opposition had acknowledged that Gaddafi's representatives must take part in the talks on the fate of Libya, but insisted that it must be neither Gaddafi himself nor anyone from his family.

"They insist that it must be neither him nor his family members, but some respected neutral persons and technocrats who really represent the interests of the tribes that group around Tripoli. They are also ready for representatives of the military forces and security service who have not tainted themselves with blood to participate in these talks. I think this offer is reasonable enough, we will continue to promote it and help, on the basis of the initiative mediating role of the African Union," Lavrov said. 

Lavrov also stressed that the peace talks can only be successful if external forces stopped hindering the process of negotiations.

Russia abstained in the UN Security Council vote on the resolution authorizing the use of force in Libya, but President Medvedev amended the Russian legislation in accordance with the resolution, banning the sales of arms to Libya and also refusing Gaddafi and his close circle the right to enter the Russian Federation. Speaking at the G8 summit in late May, Medvedev said that Gaddafi had depleted his legitimacy and must go. At the same time, Russian officials have repeatedly criticized the resolution and warned that it could lead to a lengthy war with numerous casualties.