Russia's EU envoy slams Brussels for Pussy Riot poster prank
Published time: 14 Sep, 2012 09:54
Edited time: 14 Sep, 2012 13:54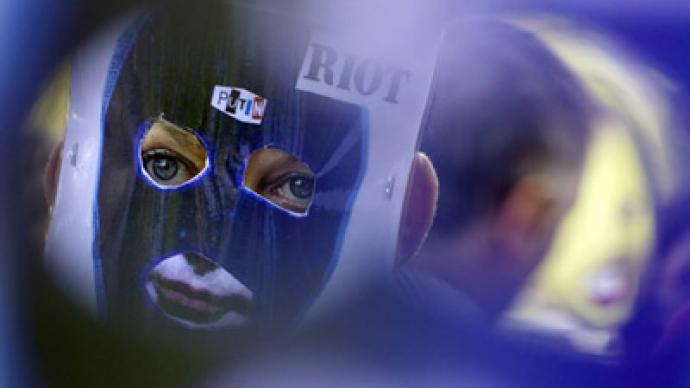 Vladimir Chizhov, Russia's Ambassador to the EU, sent a note to the Belgian government protesting the installation of a poster displaying the infamous punk group Pussy Riot in front of his office building in Brussels.
Chizhov told reporters that human rights group Amnesty International had illegally placed a poster across the road from his office that featured "a scary image of Pussy Riot," which "should not be visible to children, and not only because it's indecent, but because it looks frightening."

The ambassador is still waiting for a response from the Belgian Foreign Ministry about his request to have the poster taken down, he said.
The name of the band is "indecent not only in Russian, but also in English," Chizhov noted, adding that the European Parliament preferred not to exploit the issue.
Chizhov, whose office is located near to the US Embassy in Brussels, then asked what the response would have been had Amnesty International decided to display "a similar installation featuring the Guantanamo prison next to our neighbors."
Such a display would be much scarier, he said.
Detainees at the United States' Guantanamo Bay detention facility – which has remained open since January 2002 despite a pledge made by President Barack Obama to shutter it – were forced by military guards to wear sensory-deprivation gear, including blindfolds, earmuffs and hoods.
In February, members of Pussy Riot staged what they called a 'punk prayer' inside Moscow's Christ the Savior Cathedral. The incident, the latest in a string of controversial performances by the group, resulted in a lengthy and high-profile court case.
Three members of Pussy Riot were convicted in August of 'hooliganism motivated by religious hatred' and sentenced to two years imprisonment.