'No need for new mosques in Russia' - nationalists
Published time: 16 Oct, 2012 10:29
Edited time: 16 Oct, 2012 14:34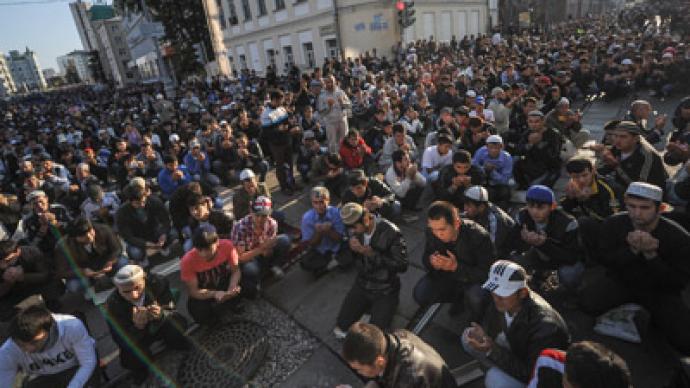 A nationalist organization has criticized a proposal to construct more mosques in Russia to accommodate an influx of immigrants arriving from Muslim countries in search of employment.
"This approach is not totally correct," Aleksander Belov, chairman of the Russkiye national movement, told reporters on Tuesday. "It is necessary to decide once and for all whether Russia will turn into an Islamic state or it will remain a secular state, where foreign immigrants arrive, find jobs and leave after their work is finished."
"If immigrants…want to build a mosque in my yard, this approach is certainly wrong," he added
In an effort to "to restore order to the immigration processes," the nationalist leader says it is important to understand "to which region foreign immigrants should go."
Belov's comments follow remarks on Monday by Moscow Chief Mufti Albir Krganov, who proposed the construction of new mosques in Russia.
"We are troubled by the shortage of places to pray," Krganov, who also holds the post of deputy head of Russia's Spiritual Muslim Board, said. "If the state is accepting such large numbers of immigrants, we should sort out this issue."
The Chief Mufti hinted that it could be an undesirable situation if there are not enough official places of worship available to the growing number of Muslims in Russia.
"It is necessary to decide where they [immigrants] should live and who will work with them," Krganov stressed. "If they do not come to official structures, for example, to the Spiritual Board and official mosques, they will be engaged in religious practices…in other places."
We will not know who preaches there and what they discuss, he added.
For an increasing number of Russian nationalists, however, that seems to be a risk worth taking. Tensions between Russian natives and members of the Muslim community have been on the rise.
In September, Moscow authorities announced they were shelving a project to build a mosque in the suburbs of the Russian capital after a large number of protesters gathered in the northwestern neighborhood to express their disapproval of the plans.
Meanwhile, Aleksandr Brod, director of the Moscow Bureau for Human Rights and a Public Chamber expert, said Muslims have a right to demand the construction of new mosques in the Russian capital.
"When driving past the Central Mosque during Muslim holidays, people complain of the roads crowded by worshipers. New mosques are needed. Let people build them and pray there quietly," Brod told Interfax on Monday.
This problem could be resolved through dialogue between the Moscow authorities and the Muslim clergy, he added.
Last week, however, prospects for more mosque construction were dashed when Moscow Mayor Sergey Sobyanin said many of the worshipers are not Muscovites.
Sobyanin revealed that "two-thirds" of the worshippers at the city's main Cathedral Mosque were not registered in the city of Moscow.
"These are either people from the Moscow Region or migrants without residency permits," he said in comments carried by Interfax.
In August, tens of thousands of worshippers filled the streets around the Cathedral Mosque in the center of Moscow to mark the end of Ramadan.
Moscow has four mosques for an estimated 2 million worshippers, a shortage that has compelled Islamic groups to seek additional places of worship.