Rail wars? Russia ponders new railroad-based missile systems
Published time: 22 Oct, 2012 09:34
Edited time: 22 Oct, 2012 14:08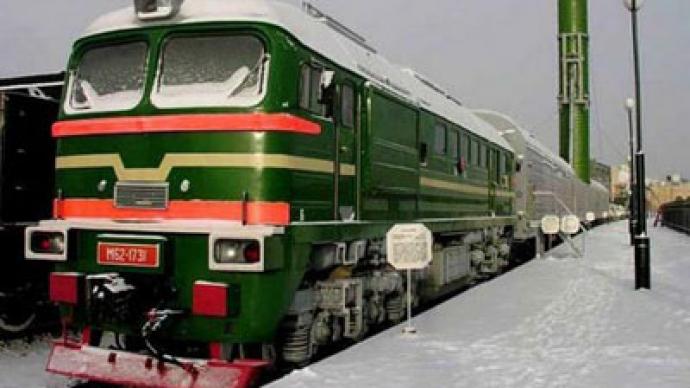 Plans are underway to create combat railway-based missile systems designed to give Russia a more flexible means of defense.
­The system consists of a train with two or three diesel locomotives and specialized railcars, which look like refrigerator or passenger railcars, but carry intercontinental ballistic missiles, together with command posts, Col. Vadim Koval, the Russian Defense Ministry's spokesman for the Strategic Rocket Forces (RVSN)the Russian Defense Ministry, told reporters.
Although the last railway-based missile unit was decommissioned almost a decade ago, the system is getting a second look as a means of protecting Russia's vast landmass as global threats become more diversified.
"A final decision, however, has not been taken on the issue," Koval added.
The idea of using railroads to move around missiles is not new. Koval noted that the first unit of railway-based missile systems was put on combat duty in Kostroma in October 1987, and removed from service in 2005.
However, with the nature of warfare changing and the global situation increasingly volatile and unpredictable, military leaders argue it may be a good time to give some versatility to Russia's missile defenses.
Meanwhile, Russia is looking for ways to counter the US missile defense system, which is being deployed in Eastern Europe. Despite Moscow's warning that the technology has the potential to spark a new arms race, US and NATO officials remain adamant and refuse to cooperate with Russia. Washington has even rejected Moscow's request to provide it with legal assurances that the system will never be activated against Russian territory.
Railway-based missile systems are designed for use along special military patrol routes, as well as railway lines used by the public.
Formerly, three missile divisions – near Kostroma, Krasnoyarsk and Perm – were deployed. Employing 12 trains, the system transported 36 missiles, each with 10 nuclear warheads.
Russian military experts say that with technological advances made in missile technology, the use of railroad-based systems could be an effective means of protecting Russia.