In nukes we trust
Published time: 16 May, 2011 14:15
Edited time: 16 May, 2011 18:27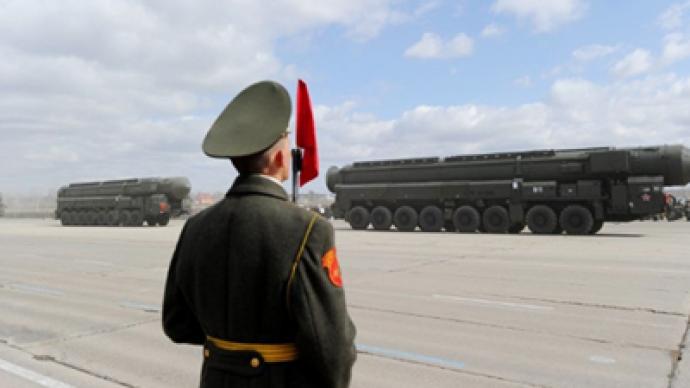 As the question of Russia's participation in the European missile defense system remains undecided, one high-ranking official says that abiding by the national strategic nuclear plan is the most effective guarantee of national security for Russia.
"Whatever the guarantees we are receiving, the best guarantee of our security is our own potential, not only political, but, above all, military-political," Dmitry Rogozin, Russia's NATO ambassador, told a roundtable conference at the State Duma, which focused on the prospect of creating a European missile defense system.

Russia's NATO ambassador stressed that when it comes to relations with its allies, verification is everything.

Russia must always be guided by the principle "trust but verify" in its dealings with allies, said Rogozin, who also heads the Kremlin's working group for interaction with NATO on missile defense.

Though not singling out any specific country by name, Moscow has expressed its concern over Washington's plans of building a sea-based missile defense system in Eastern Europe.

Russia views the sophisticated technology as a direct threat to its national security, and has threatened to take drastic measures – up to and including revoking its participation in New START, the strategic arms reduction treaty that entered force on Feb. 5, 2011 – unless it is made a full partner in the system.

Thus far NATO has balked on full cooperation with Russia in the utilization of the anti-missile system.

Although not giving up hope that Europe will eventually understand the importance of granting Russia "a hand on the button," Rogozin said that Russia has no choice but continue to develop national weapon systems and to have "a national strategic nuclear plan, independent of anyone and capable of responding to any aggression by one state or a group of states."

"Only this way will the gunpowder remain dry," Rogozin, who is known for his colorful turn of phrase, told the lawmakers.

Rogozin then chided Europeans leaders over their lackadaisical attitude to the rise of American power in their own backyards.

"Europe must not watch indifferently someone else's military infrastructure being developed in its territory," he said. "Europeans cannot hide – must not hide – behind the backs of even the most faithful allies, Americans."

Europeans must have their own voice, he added.