Russia raps Europe's human rights record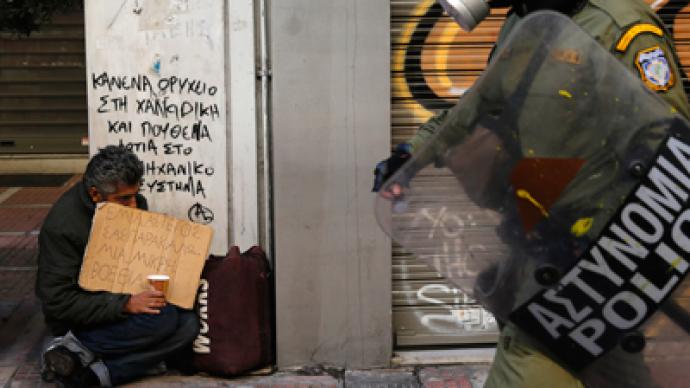 The Foreign Ministry has released a stinging report that says the observance of basic human rights and liberties is becoming an increasingly serious problem in the European Union.
Konstantin Dolgov, the Foreign Ministry's Commissioner for Human Rights, Democracy and Rule of Law, presented to Stavros Lambrinidis, European Human Rights Commissioner, a report that details the condition of human rights in the 27 EU countries
"We think it is time our European partners changed the situation and guaranteed the observance of their international obligations," Dolgov told reporters in Brussels on Thursday following the handing over of the document.
The 73-page report was compiled by the Russian Foreign Ministry.
Russia, which is frequently on the receiving end of such reports, made the decision to put together the document in an effort to draw attention to the serious problems that exist in many European countries, the diplomat said.
Dolgov highlighted some of the more common European human rights abuses, including "the non-observance of the rights of minorities and prisoners; inadequate protection of children's' rights; and the abuse of power in dispersing street demonstrations."
"Police repression of popular protests continues to go unnoticed in many countries, as social gains are being reversed due to drastic (austerity measures)," he added.
The Foreign Ministry report also drew attention to past revelations that some Eastern European countries cooperated with the CIA in secret 'black sites' where the US government detained alleged enemy combatants in the 'War on Terror.'
An European Parliament report estimated the CIA ran some 1,245 covert flights into Poland and Romania as part of its 'extraordinary rendition program,' in which many of the detainees were flown to Guantanamo Bay detention facility.
Some EU countries participated in the CIA program that consisted of the "secret detention, transportation and confinement" of persons suspected of terrorism. This behavior represents "a crude violation of the fundamental obligations to human rights," Dolgov stressed.
The Russian diplomat also touched upon other disturbing tendencies inside of the European Union, including the rise of "restrictions on media freedoms," as well as the "encouragement of Nazi ideology" in some countries, specifically the Baltic States, which includes the "simultaneous encroachment on the rights of Russian-speaking people."
In the Baltic States, parades that honor those people who fought on the side of Nazi Germany are annual events, while Russians, as well as other ethnic groups, who migrated to the region during the Soviet period are now living in a 'state of statelessness.'
For example, the most recent data of Latvia's Population Register (July 2012), revealed there were 304,806 'non-citizens' living in the Baltic country (13.8 percent of residents). Russians comprise 65.7 percent of all non-citizens living in Latvia, followed by Belarusians (13.5 percent) and Ukrainians (9.6 percent).
Dolgov said the human rights failures outlined in the report require a common effort from all countries involved in order to arrive at "the best decisions."