Putin denies chill in Moscow-Berlin ties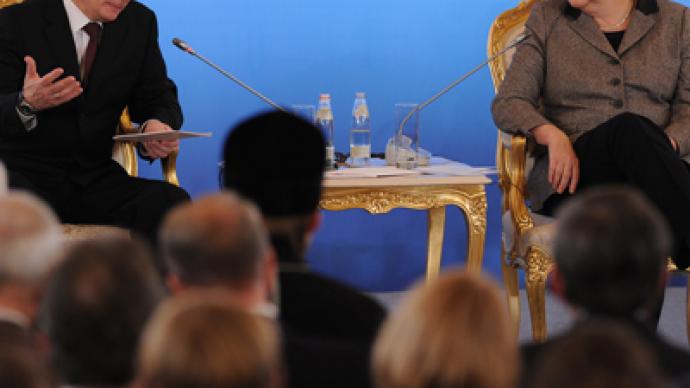 President Vladimir Putin has denounced rumor of gloomy atmosphere in the relations between Russia and Germany.
"Our relations can't be described as bleak. It's present neither in politics nor in international affairs," he said on Friday. Putin admitted that Moscow and Berlin do have some differences in opinions. However, they can all be ironed out through a dialogue. Speaking during a Russian-German forum, Putin also named an "absolutely exemplary German." "As for no German that could be a model one for us, there is such a German – it's Mrs. Chancellor Merkel," Putin stated.Merkel, for her part, urged Moscow not to take criticism as destructive. She noted that in Germany, as well as in any other country, there are various opinions – including that voiced by the opposition – and the government has to take them all into account. The comments come amid the rise of anti-Russian sentiment in Germany, which Kremlin links to the beginning of the election season in the European state. Earlier this month, Bundestag deputies asked Merkel to express concern about the situation with human rights and democracy in Russia during her visit to Moscow. The Kremlin assured that Putin will give "ample explanations" on any issue that may need to be clarified.On Friday, Putin and Merkel were taking part in Petersburg Dialogue forum in Moscow. The biannual meeting of politicians, businessmen, and civil-society representatives from Russia and Germany has been held since 2001. Pussy Riot and anti-Semitism"We do hear what our partners say.But do they hear what is going on being so far away?" Putin said, commenting on the criticism about the Pussy Riot trial and the court's decision to sentence the punk band members to two years' jail. Angela Merkel noted that she doubted the singers would have been given the same punishment in Germany."The chancellor spoke about the young women jailed for their performance at a church. But does she know that one of them had hanged a dummy of a Jew and said that Moscow should be rid of such people?" Putin noted, as cited by Interfax. He stressed that "neither we, nor you" can support people with anti-Semitic positions.The public action by a Pussy Riot member was organized in one of the largest shopping centers in Moscow, Putin added. "Problems should be looked at from all angles. But that's what discussions are for," the president observed. To Europe without visasRussia expects its German partners to help in solving the visa-free travel issue, Putin stated."Visas are a natural restraint in our relations," he pointed out. Merkel noted that moving towards visa-free travel will be a long path. Still, the process of getting visas is expected to get easier for Russians starting from January next year, when a number of new regulations come into force. She observed that if she were a businesswoman or an artist, she would also dislike the necessity of obtaining a travel visa every time. But politicians are responsible for providing security. At the same time, Merkel underlined that the introduction of visas was not linked to Russia."There were big problems on the German-Polish border," she recalled. "Not everything is simple, the world is not as unclouded as we would want it to be," the chancellor observed.
You can share this story on social media: