Ethnic tension prompts tougher punishment for illegal use of weapons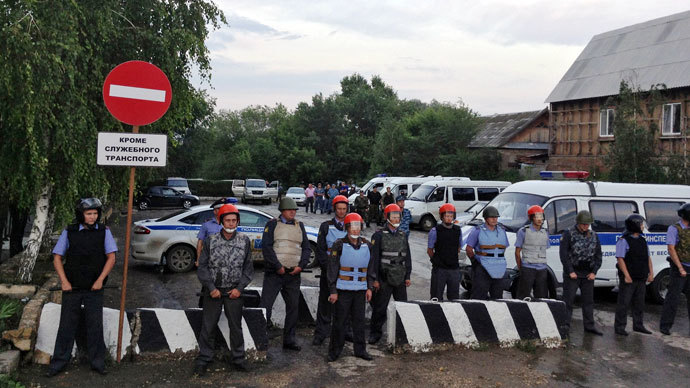 Several MPs have suggested to alter the Criminal Code and introduce additional punishment for inflicting grievous bodily harm with use of weapons, claiming the move was caused by an influx of immigrants who are more prone to such felonies.
Four deputies representing the parliamentary majority party United Russia told Izvestia daily that they had prepared the amendments that introduce the use of weapons as an aggravating fact in cases when a victim suffers grievous bodily harm. They also suggest the maximum punishment is set at 10 years in prison if those convicted use weapons, compared to the current maximum of 8 years, regardless of whether the attacker was armed or not.
The sponsors of the bill also suggest that those convicted for this crime must serve their sentences in the regions where the crime takes place and not transferred to the regions where they had been born or where they reside officially.
The second detail indicates the real reason why the amendments were prepared, and the MPs also do not conceal their motives. In an explanatory note attached to the bill they said their primary objective was to restore the citizens' trust in law enforcement and ruled out the situations when convicted criminals were moved to their home regions where they were released early or served their sentences in more comfortable conditions.
"There is a category of people who easily use weapons in conflicts. Often these people are internal migrants or immigrants. These situations not only result in human casualties but also act as a catalyst for large-scale conflicts between local residents and newcomers," says MP Igor Igoshin.
The news was published just days after mass rallies and civil unrest hit the South Russian town of Pugachyov where a local man was stabbed to death by a 17-year old teenager whose family had arrived to the town from the Chechen republic. Locals blocked a federal highway and demanded the authorities evicted all Chechens from the town, and police and top regional officials had to intervene to calm the situation down.
Mass rallies were held in other cities and towns across Russia and often because of similar reasons – street brawls that in deaths when internal migrants, often residents of the North Caucasus region, started using knives and firearms firing rubber bullets. In the latest incident a group of people from the republic of Dagestan beat up a State Duma deputy Roman Khudyakov and threatened him with handguns after a road rage incident. The suspects were detained even though they reportedly fled to another city and are currently awaiting trial, but the case accentuated the problem of cross-region crime.
Russia does not have additional punishment for using weapons in an attack. Besides, the punishments are not added up in Russia and usually those for illegal possession and carrying of weapons is much softer than those for inflicting bodily harm or murder (and carrying knives or other non-firearm weapons can only bring administrative responsibility).
Russian citizens can possess firearms only for self-defense as concealed carrying is not permitted. There is one exception – Russians can posses, carry and use specially designed handguns that fire only rubber bullets – they are called traumatic guns and the law treats them almost in the same way as pepper spray.