Russia must close NED, other US fronts for money laundering (Op-Ed)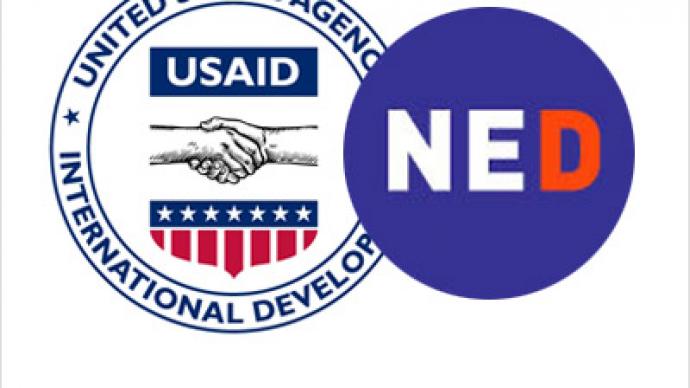 Russia's decision to shut down the US Agency for International Development (USAID) in Moscow, starting October 1st, was immediately followed by Washington's "pledge to maneuver around the Kremlin," according to a New York Times report.
Indeed, State Department Press Secretary Victoria Nuland assured: "We will continue to be vigilant in supporting democracy, human rights, civil society in Russia. We'll just do it another way." Other US officials named possible avenues for such maneuvering: The National Endowment for Democracy, the National Democratic Institute, the International Republican Institute and others.Let's take a closer look at the National Endowment for Democracy (NED), an umbrella organization that includes the two aforementioned institutes. It came to existence in quite a peculiar a way: US Code Title 22, 'Foreign Relations and Intercourse,' section 4411, 'Findings,' states, "The Congress finds that there has been established in the District of Columbia a private, nonprofit corporation known as the National Endowment for Democracy which is not an agency or establishment of the United States Government."How exactly did this happen, that Congress found this agency suddenly established?The Reagan administration, after coming to power in 1981, was looking for a civilian cover for conducting subversive operations in the USSR after a vast plot involving the CIA funding of public organizations was uncovered by investigative journalists. As President of NED Carl Gershman stated in 1986, "We should not have to do this kind of work covertly. It would be terrible for democratic groups around the world to be seen as subsidized by the CIA. We saw that in the '60s, and that's why it has been discontinued. We have not had the capability of doing this, and that's why the endowment was created." (The New York Times, June 1, 1986.)One of NED's architects was Walter Raymond, Jr. According to the Washington Post, "From 1970 to 1982, he worked for the CIA, becoming an authority on overseas media operations." In 1982, Raymond transferred to the National Security Council as Senior Director of International Communications and Information. In Gershman's doublespeak, that reads as: "He was the democracy person at the White House, and his job, among other things, was to help the NED family take its first steps." (Carl Gershman's tribute to Walt Raymond, April 24, 2003, www.ned.org)This new 'private' corporation was concocted in other 'private' circles as well. The establishment of NED was recommended by the Democracy Program, a project of the American Political Foundation that consisted of a "broad cross-section of participants in American politics and foreign policy making." The seed funding for the Democracy Program came from, naturally, USAID.NED has been funded by the US Congress ever since, initially through the US Information Agency. After 1999, NED got its funds through the Department of State's Foreign Operations and Related Programs Appropriations Act. In 2011, the NED budget totaled $118 million, and $104 million this year. Just like any other government agency, NED directs its annual reports to the president and Congress. And one of NED's founding fathers, Allen Weinstein, even confessed to the Washington Post in 1991 that, "A lot of what we do today was done covertly 25 years ago by the CIA."Who is running NED? Carl Gershman has held this position for almost thirty years, since 1984. What better shows to show Washington's continuity, where "people is policy."NED is supervised at the State Department by an Assistant Secretary in charge of the Bureau of Democracy, Human Rights and Labor. Barry F. Lowenkron held this position and oversaw NED from 2005 to 2007. According to his official biography, prior to this appointment Mr. Lowenkron served in the intelligence community, including two tours as Director of European Security Affairs on the National Security Council (1988-89, 1991-93 – both critical times in Russia); Special Assistant to the Director of Central Intelligence; Director of the National Intelligence Council's Analytic Staff; Civilian Special Assistant to the Chairman of the Joint Chiefs of Staff; and other similar positions,Michael Posner currently supervises NED at the State Department. Previously, Mr. Posner was president of Human Rights First, whose stated mission is to "advance universal rights and freedoms." Every year, Human Rights First presents their 'Next Generation of Human Rights Defenders' award. In 2008, Posner gave this award to a coordinator of Oborona, a leading Russian movement in the effort to foment a color revolution and oust Vladimir Putin.NED is so clearly part of the US government that legislators had to pass a specific law stating that it was not. 'Private' organizations like NED are nothing but funding channels for activities that used to be run by the CIA under the title of 'subversion.' The fact that Washington is planning to redirect USAID funding through 'private' organizations reflects an outrageous level of disrespect for the decision of the Russian government. Russia needs to enforce its decision and shut operations of NED and its all four mandated grantees, namely the International Republican Institute (IRI), the National Democratic Institute (NDI), the Center for International Private Enterprise (CIPE) and the American Center for International Labor Solidarity (ACILS). The process of concealing an institution's income or funding is called money laundering, and is forbidden by international law.
Veronika Krasheninnikova, for RT
The statements, views and opinions expressed in this article are solely those of the author and do not necessarily represent those of RT.
You can share this story on social media: