Russian NGOs threaten to boycott foreign agent law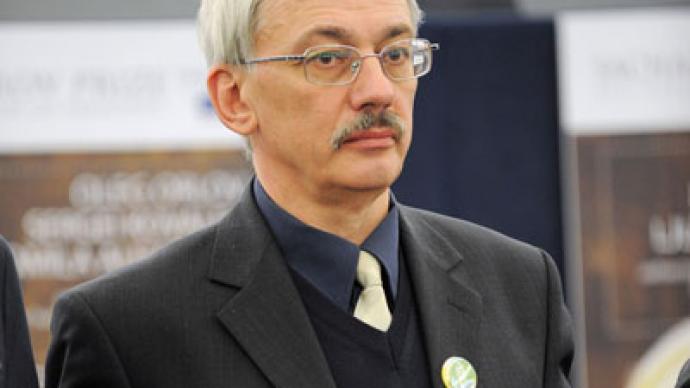 Despite a warning from the Justice Ministry, the heads of Russia's leading NGOs threaten to boycott a law obliging politically-active non-profit organizations to register as "foreign agents".
"We are not going to give up our foreign grants, nor are we going to register as foreign agents," Oleg Orlov, a leader of the Memorial Rights Center told reporters on Wednesday.
Orlov said he and his colleagues are considering what sort of "joint action" to take in response to the new law, which critics say paints politically-active non-profit organizations as traitors. Other NGO leaders say they are compelled to accept outside financial assistance because the Russian government and businesses are hesitant to finance the independent civil society sector.
Meanwhile, the rhetorical fireworks continue on both sides of the law.
"We are working on all possible steps and all possible responses, and we are discussing joint action with our colleagues in Moscow and in the regions," Orlov revealed. "No by-laws have been devised so far to regulate the enforcement of the law."
Under the new law, NGOs that fail to comply with the new requirements will be suspended for a maximum of six months; if they fail to comply again, the organization could face prosecution, a Justice Ministry spokesman told Interfax on Tuesday.
Orlov was critical of the Justice Ministry's statement, saying it "repeats this ridiculous law, known to all, word-for-word."
Lev Ponomaryov, head of the Movement for Human Rights, expressed solidarity with Orlov, while providing his personal interpretation of the new law.
The words "foreign agent" sound insulting, he said, adding that he is not a foreign agent and will not register his movement under this name.
The human rights leader then vowed to defy the new law and continue to receive funds from abroad.
"A wag of the finger won't change my position," he said. "I am compelled to disregard the law and to continue receiving grants."
Ponomaryov, saying he would take his case to the Constitutional Court and to the European Court of Human Rights, said the NGOs were being intimidated.
"They are intimidating us, but we have not been expecting anything else, although it is not clear why the Justice Ministry has decided to frighten us now," Ponomaryov told reporters. "Why didn't they wait until the law takes effect and by-laws emerge?"
Ponomaryov acknowledged that he receives grants from three American funds, but he does not represent the United States' interests. He fears that an international scandal will erupt if the Justice Ministry decides to register the Movement for Human Rights as "American agent."
The NGO chief said he expects the US government to release a statement saying that "Ponomaryov is not an American agent."
Meanwhile, the United States has weighed in on the debate, saying Russia's new law intimidates human and civil rights activists, Victoria Nuland, spokeswoman for the US Department of State, said.
"This law applies burdensome requirements on human rights advocates, anticorruption and democracy groups, and it misrepresents them as foreign agents simply because they accept foreign funds," Nuland told a daily press briefing, adding that the United States is "concerned about the democratic trend in Russia."
Nuland failed to mention, however, that the US also has its own law concerning "foreign agents", known as the US Foreign Agents Registration Act (FARA) of 1938. The law states that the purpose of FARA "is to insure that the US Government and the people of the United States are informed of the source of information (propaganda) and the identity of persons attempting to influence US public opinion, policy, and laws."
The Justice Ministry, meanwhile, promised a harsh response to those organizations that defy the requirements of the new law.
The spokesman warned that if an NGO is suspended for noncompliance of the law, it will be prohibited "from holding mass rallies and public events, using bank accounts except for routine payments, issuing payments to employees, reimbursing losses caused by its activities, as well as the payment of taxes, dues or fines."
If, however, during its term of suspension, a nonprofit organization files as a "foreign agent," it will be permitted to resume its activities, he noted.
On July 21, President Vladimir Putin put his signature to the foreign agent law.