Fed Council speaker seeks return of 'none of the above' voting option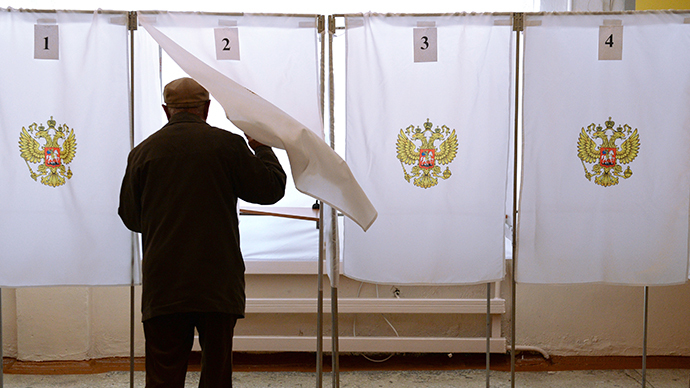 According to sponsors of a bill advocating the return of the 'none of the above' option to ballot papers, the move would add more democracy to the political process and allow full expression of citizens' political will.
The 'none of the above option' was first introduced at elections in Russia in 2001. According to the law on elections, if the majority of voters supported it a new election had to be called and all candidates in the previous poll lost the right to run. However, the option was removed from ballots in 2006 for financial reasons – legislators decided that holding additional elections was too heavy a burden for the state budget.
The bill on returning the option was submitted to the State Duma on Wednesday and on the same day, the upper house speaker and main sponsor of the bill, Valentina Matviyenko, published an extensive article on the subject in the mass circulation daily Izvestia. In the article Matviyenko stated that a truly democratic system must give the citizens an opportunity to express any political will, including the opposition to all candidates.
She added that the Constitutional Court had earlier confirmed that the 'none of the above' vote was equally as valid as the support of particular candidates and parties, and cited international practice, noting that such a vote was possible in many countries, for example in Spain, Finland, Sweden, India and Brazil.
Interestingly, Matviyenko addressed the subject in Autumn 2011, opposing the return at that time. She claimed it would not make polls more democratic and quoted the results of a public opinion poll in central Russia's Ryazan Region that showed only about 1 percent of citizens would use the 'none of the above' voting option if they had such opportunity.
However, she had changed her mind by autumn 2013 and suggested that the parliament considered the return. The move immediately met the opposition from the Communist Party of the Russian Federation and populist nationalist Liberal Democratic Party of Russia, or LDPR.
They said that the move was clearly in favor of the parliamentary majority party United Russia (Matviyenko sits on the Supreme Council of that party), as people would cast their votes for re-run, rather than support minority parties and candidates. LDPR representatives also noted that frequent changes in electoral legislation were not justified as they did not allow for construction of a stable political system.
Left-center party Fair Russia on the contrary supported the return, but said that it would only work if there was a high-threshold of voter turn-out.
The head of the pro-business rightist party Civil Platform, billionaire Mikhail Prokhorov, also said he supported the return as strong support for the 'none of the above' option was a clear diagnosis both of the authorities and of the opposition.

You can share this story on social media: