Russia had full right to classify Katyn probe – HR official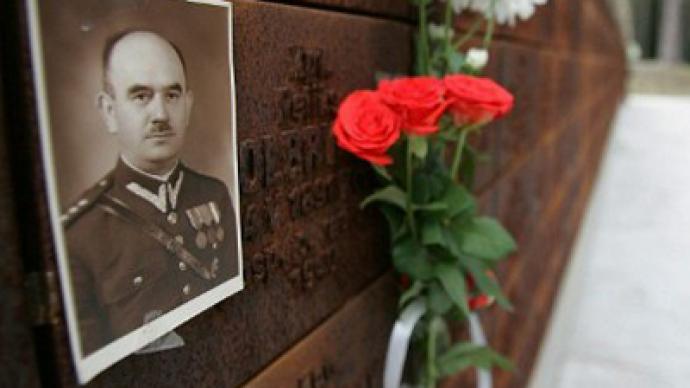 Russian officials support the refusal of the European Court of Human Rights to pass a ruling on the lawsuit filed by relatives of victims in the Katyn tragedy, but maintain that national law was a priority in dealing with the case.
The head of the office of the Russian plenipotentiary with the European Human Rights Court told Interfax news agency that his country had all grounds to classify a statement on stopping the investigation into the Katyn tragedy. "The decision to classify the court statement was made by Russian investigative bodies on the basis of Russian national law, and was within these bodies' competence," Andrey Fyodorov stressed. The European Court of Human Rights has ruled that Russia had not created proper conditions for an inquiry into the Katyn case, and that it classified a 2004 resolution on termination of the probe without due reason. Nevertheless, the court refused to give a full ruling on the lawsuit filed by relatives of the executed Poles, but officially recognized the executions as awar crime, as they violated international law on humane treatment of prisoners of war. Fyodorov said that the Russian side will most likely not appeal the ruling, but added that a final decision on this will be made after thorough study of the court documents within the three-month period allowed by court rules. In 1940, Soviet security services executed about 22,000 Polish military officers, mainly in Russia's Katyn forest. The Soviet authorities blamed the killings on Nazi Germany, but in the 1990s Russian authorities accepted the fact that the Poles were killed by the Soviets. President of the USSR Mikhail Gorbachev apologized to the Polish people, and Russian President Boris Yeltsin ordered some of the secret documents related to the Katyn case to be released to historians.Moscow has held its own investigation on the events, which in 2004 was closed by a classified resolution of the Main Military Prosecutor's Office. In November 2010, the Russian parliament adopted a statement admitting that the executions took place on the direct orders of Joseph Stalin and other Soviet leaders.
You can share this story on social media: