A plaque in memory of killed Red Army servicemen removed in Poland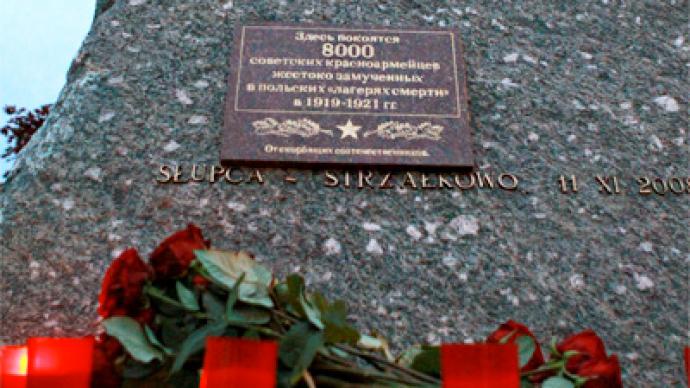 Polish authorities have removed a plaque with an inscription in Russian honoring killed Red Army soldiers from a memorial stone set up on the 90th anniversary of Poland's independence in Stshalkovo.
The plaque read, "Here are buried 8,000 Soviet Red Army servicemen tortured and killed in Polish death camps in 1919-1921." Polish authorities say it was taken away because it was put there without their permission, adding that no request was submitted and they were not informed of any intention to have a plaque there. As head of the Stshalkovo region noted "the plaque appeared in the wrong place". He said that "the camp and the cemetery are situated two kilometers away from the stone", which he reminded was put there in memory of Poland's independence.The Russian Foreign Ministry said that it was not aware that the memorial plaque was installed there."If this happened without the approval of the Polish authorities as media report, such actions, no matter the motives behind them, can apparently be considered as a violation of the domestic legislation and will require further investigation," said Russian Foreign Ministry spokesman Aleksandr Lukashevich. At the same time, he stressed that Moscow believes that the death of thousands of captive Red Army servicemen in Poland during the war of 1919-1921 "is a tragic page of our common history and will always be remembered by the Russian people."Earlier, a similar incident occurred on Russian soil. Relatives of the victims of the plane crash which killed Polish President Lech Kaczynski, not far from Russian Smolensk, placed a memorial plaque in Polish near the site of the tragedy. Smolensk authorities then changed it to another one, in both Polish and Russian. However, the second version did not mention the fact that the presidential delegation was flying to Russia to take part in the commemoration of the Katyn massacre of 1940, when thousands of Polish officers were killed by the Soviet NKVD police. Some time later, the Russian and Polish presidents agreed that a memorial will be designed jointly and the memorial inscription will be agreed by both sides.From 1795 to 1918, Polish lands were partitioned among the Kingdom of Prussia, the Russian Empire, and Austria. Poland regained independence in 1918 as a result of World War I. In 1919 a war broke out between two newly formed states, Poland (II Rzeczpospolita) and Soviet Russia. On the one hand, Poland aimed to restore its borders of 1772. On the other hand, the Soviet leadership wanted to regain control over the territories which belonged to the Russian Empire and also to expand communism further west.
You can share this story on social media: