Russian Prosecutor General demands return of Berezovsky's foreign assets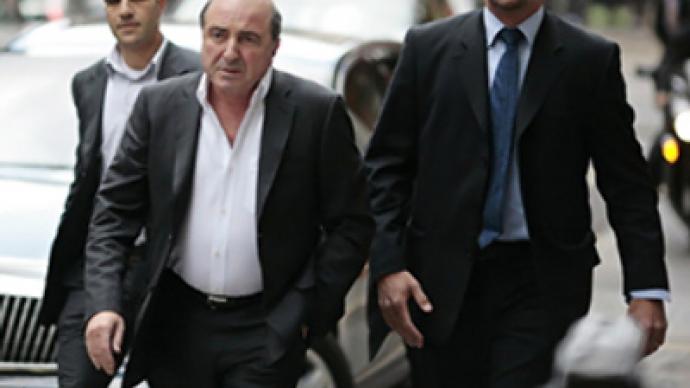 The Russian Prosecutor General's Office has traced all the foreign assets belonging to tycoon Boris Berezovsky, who is currently living in exile in London.
The revealed assets are worth over 300 million pounds sterling, Prosecutor General Yury Chaika told reporters on Wednesday. Moscow will insist on their return, he added.
According to the Prosecutor General's Office, Europe is not the only place where Berezovsky keeps his assets. "He is in clover over there [in London]," Interfax quoted Chaika as saying.
Prosecutors do not rule out new trials of Berezovsky, who was granted political asylum in Britain in 2003.
Switzerland recently returned assets worth more than $52 million to national flag-carrier Aeroflot after a Swiss court found the assets were stolen by the self-exiled tycoon more than a decade ago.
Officials in the Russian Prosecutor General's office said five more criminal cases involving Berezovsky and his associates were being investigated. In addition, several pre-investigation checks have been ordered "on new facts of crimes," they noted.
Russian law enforcement agencies are demanding the compensation of 58 million roubles ($1.9 million) allegedly stolen by Berezovsky from the car producer AvtoVAZ in the nineties.
In June 2009, the Krasnogorsk City Court in the Moscow Region found Berezovsky guilty of stealing the money and sentenced him to 13 years in prison in absentia for defrauding AvtoVAZ.
In Russia, Berezovsky has been accused of fraud, organizing an illegal criminal formation, exceeding authority and legalization of revenues obtained by illegal means.
Numerous demands from the Prosecutor General's Office that Berezovsky should be extradited have been rejected by British courts on the grounds of his status as a political refugee.
Sergey Borisov, RT
You can share this story on social media: