'#HandsOffYT': YouTube may be blocked in Russia over anti-Islam film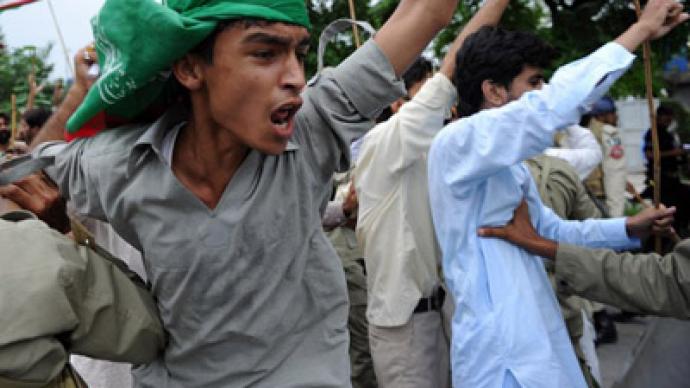 Russia could officially block access to YouTube while it hosts the infamous movie "Innocence of Muslims", Communications Minister Nikolay Nikiforov has warned.
The minister tweeted that the ban could come into force as early as November 3-5 as a new law on protecting children from dangerous information comes into force.The new law authorizes bocking websites that contain information recognized as extremist in a Russian court. If the site owners refuse to delete the banned content, site hosting becomes officially blocked.Russian Minister's comments sparked a storm of criticism and outrage online. Hashtag #РукиПрочьОтЮтуба (#HandsOffYouTube) made it to the top trends in Russian twitter, triggering an online campaign to protect the service from being shutdown in the country. Many saw this as an attempt to censor the Internet, dubbing the initiative insane. Some bloggers called on government not to rush with a reckless decision blocking YouTube as a whole, but to block the video in question."Today they block YouTube, tomorrow they will shut down the Internet? Why tackle every problem in a drastic manner?" – one blogger asks on Twitter.
'Innocence of Muslims' similar to child pornography'
Russia's consumer rights watchdog has already issued a recommendation to internet service providers to block the access to "Innocence of Muslims" videos and asked the Russian media to do as little as possible to spread the movie.After November 1 the ban can be issued in an out-of-court order with possibility for the owner of the hosting (Google in YouTube's case) to contest the decision within a limited period of time.Google's press service said that YouTube administration is conducted outside Russia and that all materials concerning the controversial film had been forwarded to the company's head office in the United States.Prosecutor General's Office statement said Monday that it would appeal to the courts for "Innocence of Muslims" to be categorized as extremist in order to prevent its online distribution in Russia. The probe was held as the film supposedly insults religious beliefs and incites inter-ethnic feuds.The prosecutors' actions were prompted by an official request by Senator Ruslan Gattarov, who stated that the film had already caused riots and tensions in the Middle East and in Europe."It is obvious that the objective behind the movie is to split the society by the religious parameters and then clash parts of it. This can lead to far-reaching consequences and that is why we must do everything to ban the demonstration of this film on the Internet," Gattarov wrote.In an interview with a Russian Dozhd' TV channel, Gattarov also accused Google of double standards: "Google deletes child pornography, unlike other websites. This film is similar to child pornography, but relates to a huge number of Muslims. Their feelings are insulted in the same manner."
YouTube already blocked in Pakistan, Bangladesh, Afghanistan
Violent protests against the film broke out on September 11 in Egypt and Libya, eventually spreading to other Arab countries in the days that followed. An attack on the US consulate in Benghazi led to the death of US Ambassador Chris Stevens and three other Americans. Almost 40 people have died in violent clashes triggered by the controversial video.Russia lists Islam as one of its traditional religions (along with Christianity, Judaism and Buddhism), but the Constitution states that the country is completely secular and all religions are equal before the law. The number of Muslims in the Russian Federation is estimated at over 10 million.Pakistan blocked access to YouTube on Monday over the Innocence of Muslims and before that Bangladesh and Afghanistan took similar steps. Indonesia has addressed Google with a request to remove the film from YouTube, which has already been done for domains covering India, Egypt and Libya.
You can share this story on social media: