Moscow warns against premature NATO pullout from Afghanistan
Published time: 5 Oct, 2012 12:02
Edited time: 5 Oct, 2012 16:02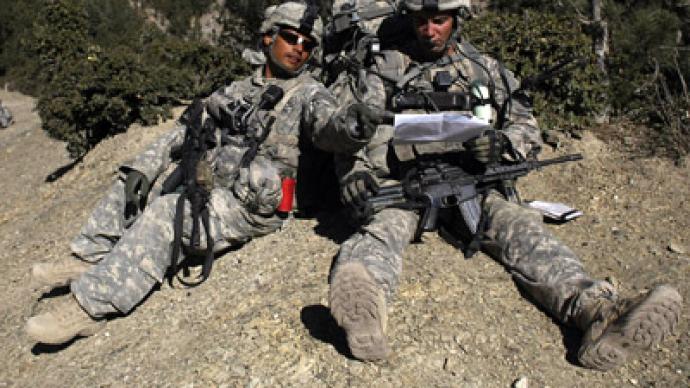 Russia's envoy to NATO says Afghanistan must be able to provide for its own security before the alliance begins a withdrawal.
Describing NATO's operation in Afghanistan as a milestone for the Western military organization, Nikolay Korchunov stressed the importance of confronting "threats to security coming from the territory of the country and risks to stability in the region as a whole."
The situation in Afghanistan is expected to dominate the agenda during a meeting of defense ministers from NATO member states on October 9-10.
Korchunov touched upon the delicacy of the situation as NATO forces are attempting to hand over security duties amid an atmosphere of criminal behavior.
"The International Security Assistance Force [ISAF] is currently transferring security functions to the Afghan side," the envoy noted. "Irresponsibility in the form of continuing rampant crime and illegal drug production in many provinces and regions must not be transferred."
The transfer of duties is an extremely important process that leaves no room for mistakes, he added.
The US military is already aware of the risks involved in the NATO operation. As part of their preliminary phase for handing over all security functions to the native population, ISAF troops are working side-by-side with Afghan soldiers. This strategy, however, has been rife with tragedy, and may force NATO to withdraw from the Afghan theater earlier than planned.
Earlier this month, two days after the US military resumed joint operations with Afghan troops following a spate of "green-on-blue" inside attacks, a platoon of American soldiers was involved in a gunfight with Afghan "colleagues" without warning or provocation.
Two US soldiers were killed, while NATO suffered another blow to morale.
"The majority of it is a terrorist infiltration in the [Afghan army] ranks," said Jawed Ludin, Afghanistan's deputy foreign minister.
In light of these disturbing events, Russia is warning against providing the enemy with any sort of definite timetable for NATO's withdrawal.
"In our opinion, it would not be totally correct to set any artificial timeframe for soldiers' withdrawal until the Afghan side is capable of maintaining security in its state on its own," Korchunov stressed.
The mandate given by the UN Security Council should be fulfilled completely, Korchunov said.
Asked whether or not the security situation in Afghanistan would deteriorate following the departure of international forces, Korchunov acknowledged that "apparently, such a risk does exist."
Russia is not the only country that is warning against such a scenario.
Former UK Foreign Secretary David Miliband has gone on record as saying that the ISAF left Afghanistan, it would take the Taliban hours, not even days, to return to power there, Korchunov said.
"I would like to believe that the actual situation there is not that bad," the Russian envoy admitted. "In the end, Mohammad Najibullah's government managed to stay in power for three years after the Soviet contingent left Afghanistan."
Meanwhile, Korchunov mentioned the possibility of transforming the "northern route" into a viable commercial project that could help economic revival not only of Afghanistan, but other Central Asian countries as well.
"This new transportation corridor is relevant, including for deliveries of humanitarian supplies, equipment and materials," he said. "If this idea is put into practice, Russian carriers would be able to get new orders."
Russia has been supporting the ISAF in accordance with UN Security Council Resolution 1386, which calls on UN member states to extend any necessary assistance to the international contingent, including fly-over authorization, he said.
The growing volume of cargo traffic through the "northern route" is creating new conditions for the development of the country's transit potential, Korchunov said.
The NATO envoy took pains to stress that the all precautions were being taken to ensure that the cargo transfers were not used for illegal purposes.
"All cargo transit operations will be controlled by Russian Customs in order to prevent these transit arrangements from being used for drug trafficking purposes," he said. "NATO weapons and military personnel will not be transported across Russian territory."