Leader of Fair Russia rules out creation of own "Popular Front"
Published time: 11 Jul, 2011 09:37
Edited time: 11 Jul, 2011 15:20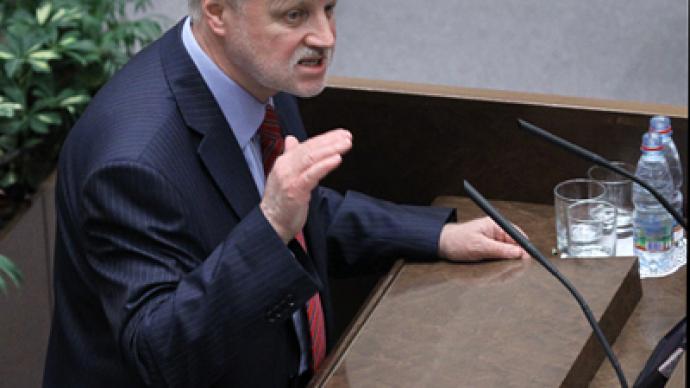 Fair Russia leader Sergey Mironov said his party had no plans of attracting non-members to get more votes in the forthcoming election, repeating that they would never support any presidential candidates forwarded by United Russia.
­In an interview with Kommersant Daily, Sergey Mironov said that his party was not planning to create structures similar to United Russia's Popular Front or the Communist Party's People's Volunteer Corps. He did say, however, that there were suggestions to create a "landing force".

Mironov said that any structures offering parliamentary seats to non-party members were "simply games" and that the whole Popular Front project was nothing more than a rebranding project within United Russia. "We are not planning to create new organizational structures, though we will call for those who have not voted for the last 10 or 15 years to show up at the polls," he said, adding that in his view, if 80 percent of the voters cast their ballots, United Russia's political monopoly would be ruined.

The leader of Fair Russia also said rumors that his party was losing members after his dismissal from the post as speaker of the upper house were untrue.

Mironov was recalled from the Federation Council in mid-May of this year by the Legislative Assembly of St. Petersburg. The legislature, which is dominated by United Russia, got upset over Mironov's unremittingly harsh criticism of United Russia's governing of the city.  After losing his post in the Federation Council, Mironov took a seat in the lower house, subsequently becoming the leader of the Fair Russia faction in the State Duma.  

At the same time, the leader of Fair Russia said that his party was inviting other public movements to cooperate, including help in writing the party's elections program. He said that Fair Russia would conduct a sort of referendum to do this. "We must address people through special bulletins which have our party emblem on them. We must conduct voting in the streets, in the cities, in all populated places," Mironov said. Ultimately, every legislative seat, whether on the municipal, regional or federal level, would only be filled by members from Fair Russia.
Mironov again ruled out any possibility of a union pact with United Russia, as had happened when both parties supported Dmitry Medvedev's candidacy during the previous presidential election. "We rule out the possibility of any unions. Our party will not support the presidential candidate forwarded by United Russia. Any alliances with the Popular Front are ruled out as well because it is just a screen for the same old United Russia."  When all is said and done, "people will vote for the parties."