RT presents: Russia's Choice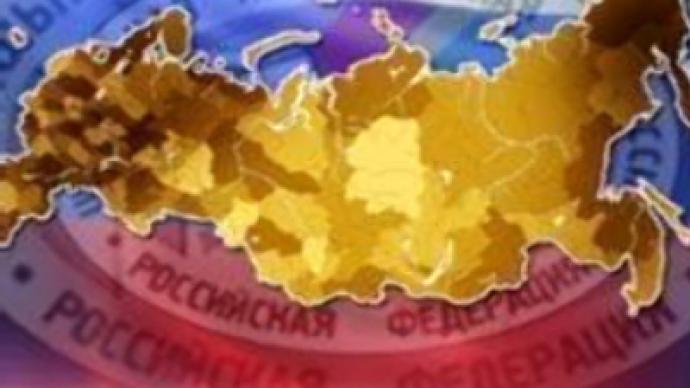 Russians from all walks of life have been giving RT their views on the country's future and the Presidential election this Sunday. Every hour until polling day, RT is broadcasting live interviews with Russia's most prominent politicians and opinion formers.
From every part of Russia and abroad, our correspondents are discovering the burning issues and what voters expect from their next leader.
Join us for the marathon broadcast!
Feb 28, 2008

Vitaly Ermakov from Cambridge Energy Research Associates concluded the day of RT's election marathon at 11pm with some essential info on Russia's energy complex.
"I could give you a lot of data to create an impression about Russia's energy resources, but there are two facts that will perfect do the job by themselves. First – Russia has recently surpassed Saudi Arabia as the world's biggest oil exporter. And fact #2 – Russia has the biggest gas resources, which means that the country's future is gas," Ermakov said.
From lifestyle management to lifestyle magazines. Ilya Bezugliy – editorial director of Maxim magazine – paid a visit to RT's Bill Dodd on Red Square at 10pm. Male interests – from metrosexuality to women – were on the agenda.
"With metrosexuality being the latest big thing, Russian men are much more interested in grooming. They want to know, how to take care of themselves," Bezugliy observed.
"But otherwise it is all a macho-muchacho culture in here, and we are all of course, male chauvinists," Bezugliy added jokingly.
Booming economy, numerous business meetings, tight schedules – all call for effective personal management. Robin Reed – head of a lifestyle management company called Anna Ivox – appeared on RT's radars at 9pm to tell a bit about his business.
"Our service came about aiming to assist foreigners in Russia, who do not speak Russian and need 24-hour assistance, when they can't find directions in metro, or in traffic, or when they are lost in a supermarket," Reed said.
Daniel Klein, a lawyer and investment advisor at the Hellevig, Klein & Usov, joined RT's election marathon at 8pm. Russia is improving in both his areas of expertise, according to Klein, but there is still big room for improvement in legislature.
"The legal framework in Russia – in comparison with other countries – makes it quite complicated for the businesses to set up. But, in the end of the day, the opportunities in Russia are incredible and a lot of foreign companies realize that if they are not in this market, they are missing a lot of opportunities," Klein said.
The time to consider foreign investment in Russia came at 7pm with Vladimir Ismailov from the Association of European Businesses. Ismailov, a representative of a union that boasts around 600 members in Russia only, gave his analysis of the current situation.
"The life of business isn't easy everywhere. But with Russia's economy booming many European companies are earning well. Even the trend of everything getting more and more expensive in fact attracts investors from Europe, with real estate being no exception. In that area, as soon as the supply catches up with the demand, we might see a leveling of the prices," Ismailov said.
With the weather in St. Petersburg easing up a bit, at 6pm RT heard from Tatyana Romanova, a lecturer of St. Petersburg State University on energy issues. the South Stream pipeline project.
"What is really misunderstood by the Western countries is that Russia's energy policy is more about economy then politics. Russia is being criticised a lot for trying to control countries which use Russian gas. But in fact Russia's energy policy has been driven more by economy then by politics," Romanova stressed.
Meanwhile in Moscow, economist Arkady Dvorkovich, the head of presidential experts directorate, appeared near Red Square to mention the changes that occurred with Russia's economy during the two Putin terms.
"The economy grew 7% a year on average. Though poverty is still an issue, the number of people, who live in poverty, is declining very rapidly. But the inflation, though fallen since 1999's 30%, is still quite high," Dvorkovich said.
At 5pm Mikhail Pyotrovsky, took a minute-long walk from his workplace – the State Hermitage Museum, which he has headed since 1990 – to appear before RT's camera on St. Peterburg's Palace Square. Talking about the Russian tycoons buying art abroad for their collections, he approved the trend.
"They are bringing back a lot of Russian things. I think they are doing good collections and we are in good contact with them. They are doing exactly the right thing that is a good Russian tradition: to buy art for your own country," Pyotrovsky said.
Anna Golovanova, a corporate affairs manager from Foxconn, the world's biggest electronic component manufacturer, joined RT's election marathon at 4pm to explain why her company decided to open a 5000-worker plant to produce computers for Hewlett-Packard near St. Petersburg.
"The choice of St. Petersburg has been very much dependant on the good policy of the city's administration. They do a lot to make St. Petersburg a comfortable place for investors," Golovanova said.
Aleksandr Nikitin, from Moscow State University of International Relations, said that both Russia and the U.S. are expecting new presidents to improve bilateral relations.
"I do expect more co-operation between the US and Russia and the two new presidents to move in the direction of more use of the international law and the systems of the UN rather than behaving as the old coercive superpowers."
One of the key figures in building up new media following the collapse of the Soviet Union in 1991 – Viktor Mashendzhinov, who is now working for the union of journalists in St. Petersburg, says that the basic outcome of the Putin's era is that the state is getting stronger together with the government, but now it is time to build civil society and free media.
"Media is a kind of alarm for the society. It is very important because criticism sometimes is a service"
Journalist Mario Corti says although Russia enjoys stability and continued growth, media freedom has been reduced in the country over past years.
"There isn't much freedom in the big media, I mean central TV channels. However, there's more freedom in the Internet".
Speaking about Russia's long-term priorities, Erik DePoy, equity strategist from Alfa Bank, said the country needs to invest in infrastructure and social programmes.
"Infrastructure is something that needs to be addressed first and foremost. The same holds true for healthcare and education facilities. And the government stands at a point when they really have to start using this money [the Stabilisation Fund]," he noted.
Johnny Maglani, owner of the Uomo Collezioni chain of men's clothes boutiques, believes Russia provides a number of opportunities for doing business. He says things have changed a lot since the company came to Russia, where a new layer of people has emerged.
"Most of our customers are self-made successful people, and as a rule such people are demanding. They want perfection and quality, and we are able to provide that," said Mr Maglani.
Aslan Baranets, a journalist from the Chechen National TV and Radio Company, spoke to RT about the changes in Chechnya over the past three years, and assessed freedom of speech in the Republic.
"I would describe the current situation in the Chechen Republic as the reconstruction of all areas of life," he said.
Veronika Krashenninikova spoke to RT about Russia's relations with the West and the right geopolitical policy for the country after Sunday's election.
"During Putin's term Russia has taken a seat at the table in world affairs and now we have to suggest solutions as opposed to mere resistance to the solutions of other countries. We have to be more creative and constructive. We have to be multi-dimensional to build good relations with the West".
She added, in light of the shifting geopolitical situation, another challenge for Russia is to build good relations with Asia, for which Russia has lots of advantages.
Eco-Defence chairman Vladimir Slivyak joined RT at 10am to comment on the biggest ecological challenges for Russia and how nuclear waste has been handled.
"A lot of money must be invested into nuclear waste disposal now because in the past we did not pay much attention to it", he said.
Vladimir Pligin from the State Duma Constitutional Law Committee spoke to RT about changes in the Russian Constitution over the past 8 years, and the changes in the electoral system in particular.
Commenting on the new minimum threshold to pass into the Duma, Pligin said that "there are approximately 18 different parties in the Russian Federation. Previously there were over 30 of them – quite a big number. But reasonably such kind of big states have approximately five parties. That's why I believe that 7% is rather a reasonable level."
Is classical music still in vogue in Russia? Mikhail Segelman, a musicologist from Moscow, told Russia Today at 8am that the problem is "the total situation with culture is changing dramatically. People appreciate classical music but they try to concentrate on four or five main figures, speaking about composers."
Ksenia Kochegarova, a China expert, joined RT to share her view on the Asian influence in Primorsky region. She also spoke about the upcoming presidential election in Russia.
"I expect the best out of the election, and I expect our country to become better, no matter who leads it," she said.
Dr. Charles Kupchan, Senior Fellow and Director of European Studies of Council on Foreign Relations, and Professor of International Affairs of the Georgetown University, commented RT on the Russian-American relations and Russia's role in the world arena.
"There is a long list of issues on which the two leaders (Putin and Bush) disagree. I think having a change in Moscow and a change in leadership in Washington will provide more opportunities to re-balance the relationship between the two countries," he said.
Oleg Rakitsky, CEO of the Deltaleasing Company, joined RT to talk about the small businesses in Primorsky region.
"In my opinion, it doesn't matter where a company is located geographically, it can be in Vladivostok or in Moscow – the market is big," he said.
Martin Tate, Honorary Consul of New Zeland in the Russian Far East was RT's guest at 1 am. According to him, the quality of life in the Primorsky region has improved over the time.
Andrew Kuchins, a senior fellow and director of the Russia and Eurasia Programme of the Centre for Strategic and International Studies, joined RT at 0 am to talk more about Russia's foreign policy.
"The perception of Russia in the West has changed dramatically in the last eight years because Russia has changed dramatically in eight years," he said.
Garik Kharlamov, Russian comedian, joined RT at 0 am to talk about mass culture in the country. He said that Russia has changed a lot over the past years.
"We live in a new Russia," Kharlamov noted.
You can share this story on social media: