ROAR: Russia strengthens air defense shield with CIS countries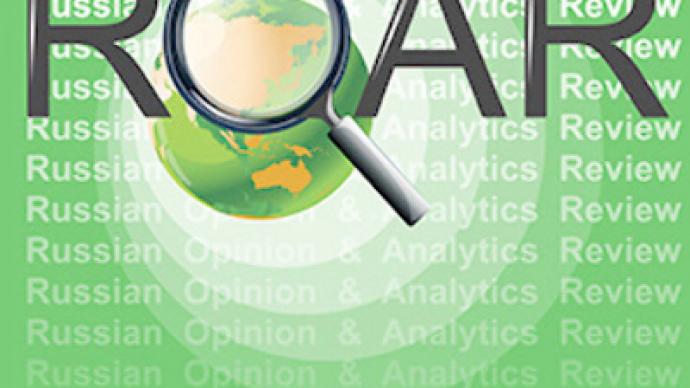 As the countries of the Commonwealth of Independent States are developing an integrated air defense network, Ukraine may consider creating a joint system with Russia.
Kiev and Moscow may unite their air defense systems, former deputy of Ukrainian parliament Georgy Kryuchkov has said. The former head of Verkhovnaya Rada's committee on national security and defense was speaking at a round table meeting in Kiev on July 20.
Ukraine should also cooperate with the Collective Security Treaty Organization (CSTO) in air defense issues, he stressed. "We should unite our efforts in this field, because the United States did not abandon the idea of deploying a missile defense shield in European countries, in particular in Poland," he was quoted by Rosbalt news agency as saying.
However, Ukraine's membership in the CSTO is not on the agenda as the country maintains a non-bloc status, he noted. This status should become the foundation of the country's foreign policy and defense strategy, he added. Ukrainian President Viktor Yanukovich signed a law declaring the non-aligned status on July 15.
Aleksandr Kuzmuk, former defense minister and deputy from Yanukovich's Party of Regions, also believes Kiev may create an integrated air defense system with the CSTO countries. Ukraine has the possibility to join the united air defense, Kuzmuk said on July 14. This does not harm the country's non-aligned status, he said, as reported by New Region news agency.
On a bilateral level, Ukraine is cooperating in air defense with Russia and Belarus, the deputy said. However, he added that Kiev intends to cooperate with NATO as well.
Kryuchkov, in his turn, noted that policies of former Ukrainian President Viktor Yushchenko, aimed at securing the country's membership in NATO, has not made Kiev closer to the alliance and has split society. The non-aligned status meets Ukraine's interests, he said. And NATO as an organization created to counter the Soviet Union is outdated, he added.
Last week, Ukrainian representatives took part in the meeting of the Air Defense Coordination Committee under the Council of Defense Ministers of CIS States in Moscow. They discussed the development of the integrated air defense system and bilateral cooperation of CIS countries in this field.
Currently, Armenia, Belarus, Kazakhstan, Kyrgyzstan, Russia, Tajikistan, Uzbekistan and Ukraine are involved in this cooperation. However, CIS countries strongly depend on Russian supplies, analysts note.
Moscow is ready to supply S-400 air defense systems to Belarus if the country orders them, Russia's Air Force chief Col. Gen. Aleksandr Zelin said. Russia and Belarus have a unified air defense system.
Minsk is considering purchasing Russia's systems among other variants, Belarusian Air and Air Defense Force Chief Igor Azaronak said. The participants of the meetings in Moscow noted that Belarus' air defense system is currently "one of the most powerful ones in Europe."
The agreement between Moscow and Minsk on the joint protection of the Russia-Belarus Union State's airspace and the creation of an integrated regional air defense network was signed in February last year. It was developed as part of the integrated CIS air defense network.
To support air defenses systems in other CIS countries, Russia will upgrade radar stations in Tajikistan and Kyrgyzstan in the framework of military-technical cooperation with those countries. Moscow will also supply spare parts and equipment for air defense hardware of CIS states.
In October, Russia will hold a command-and-staff exercise, as well as two bilateral command-and-staff exercises of air defense with Uzbekistan and Ukraine.
The CIS integrated air defense network was set up by ten countries in February 1995. The network is intended to protect the member states' air space and coordinate efforts to counter possible air threats. RIA Novosti quoted Zelin as saying that Russia would participate in defense of "any CIS country in case its airspace is violated."
Since 2007, the CIS countries have been forming regional air defense zones. The Russian-Belarusian system covers the East European zone. Later, Caucasian and Central Asian zones will be created. After the three systems are established, they will coordinate their activities and exchange information.
The result of the work proves the effectiveness of the integrated air defense system, Red Star newspaper noted. Thanks to mutual efforts, national air defense systems have been restored in Armenia, Tajikistan and Kyrgyzstan.
Currently, Kazakhstan is preparing to modernize its air defense system. This may become one of the most important factors of strategic stability in Central Asia, representatives of the CIS defense ministries noted at the meeting in Moscow.
Developing an agreement on joint struggle against air terrorism is a new direction of the cooperation. The agreement stipulates the organization of joint duty shifts by the CIS air defense in the event of aircraft being seized by terrorists, Secretary of the CIS Council of Defense Ministers Aleksandr Sinaysky said. The document might serve as an example of effective cooperation between CIS member states in the field of air defense, he stressed.
Sergey Borisov,
Russian Opinion and Analysis Review, RT
You can share this story on social media: