Reports of civilian casualties in Gaza exaggerated, says Israel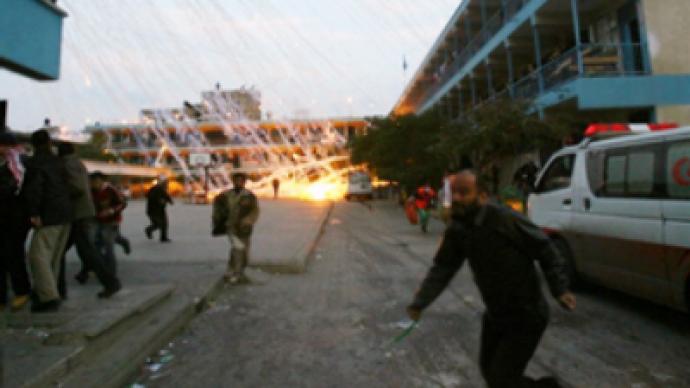 Allegations that 42 Palestinian civilians near a UN school were killed by Israeli shells during last month's fighting in the Gaza Strip have been challenged by Israeli investigators.
The investigators said that the number of fatalities in the incident totaled 12, with only three of them non-combatants.
The UN school allegations had served as the centerpiece of charges by Palestinians and international agencies that Israel used indiscriminate and excessive force against civilians during the three week operation.
In the initial version of the incident, based on Palestinian sources, the casualties were said to have been inside a UN school in the Jabalya Refugee Camp north of Gaza City. This would eventually be disproved when UN officials acknowledged that no shell had hit the school. However, Israel was still faulted for having caused the deaths of civilians.
"I know that no one was killed in the school," a senior UN official was quoted as saying, "but 41 innocent people were killed in the street outside the school. The state of Israel has to answer for that. What did they know and what care did they take?"
An answer to that question has been furnished by Col. Moshe Levi, head of the Israel Defense Force's Gaza Coordination and Liaison Administration (CLA), which normally deals with the transfer of aid to the Gaza Strip through Israeli crossing points. With the onset of the war, Col. Levi and his staff began compiling a list of casualties in Gaza as reported by Palestinian health officials and comparing the names with those on its own list of Gaza residents and its registry of militants.
In a 200-page report recently issued, the CLA identifies more than 1,200 Palestinian fatalities by name and gives their Palestinian identity numbers, the circumstances in which they were killed and the militant group, if any, with which they were affiliated. The report concludes that about one-third of the total fatalities were civilian, and not two-thirds as Palestinian sources claimed.
Focusing on the fatalities killed near the UN school in Jabalya, the CLA concluded that 12 persons were killed, not 42 or 43 as had been reported, when Israeli mortars fired three shells at Hamas mortarmen who had fired from near the school at Israeli forces. Israel has released the names of nine of those killed, two females and seven males. In all, nine of those killed in the incident were identified by the Israeli army as Hamas operatives and three as non-combatants.
Israel maintains that the international community was duped by Hamas claims that the bulk of the fatalities were innocent civilians.
Palestinian sources did not reply to requests for comment.
Abraham Rabinovich for RT
You can share this story on social media: