Putin: Radical Islamist groups used to stir up 'foreign-managed conflicts'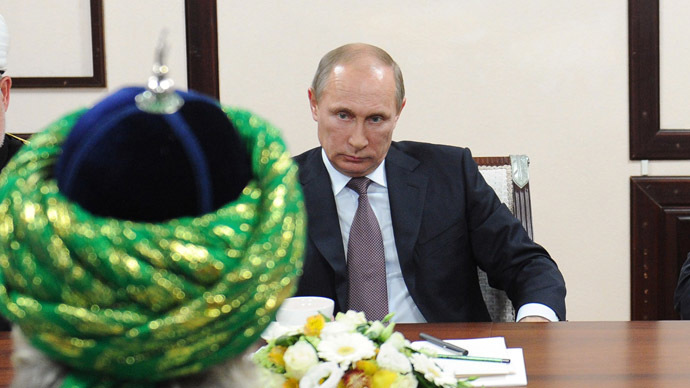 The Russian President has said the country's Muslim leaders together with state authorities must counter the modern tendency of bringing politics into religion and making it radical.
"Some political forces are using Islam, or, to be more precise, its radical movements that have never been popular among Russian Muslims, to weaken our state and to create regions with foreign-managed conflicts on Russian territory," Putin said at the celebration of the 225th anniversary of the Central Spiritual Administration of Russian Muslims – the body responsible for cooperation between Muslims and state officials.
"An active and not always positive process of bringing politics into religion, including Islam, is currently going on in the world. In such conditions, the Russian Muslim community is facing new problems and tasks. We can solve them only together," the Russian President added.

Putin also noted that Muslims must counter attempts to bring strife between them and the rest of the society by maintaining their historical traditions. He said that despite the diversity of schools and movements within the Muslim faith Russian Muslims "had always been united in their service to the society and the state".
In addition, Putin called upon Muslims to establish and strengthen partnerships with their religions, first of all – with the Russian Orthodox Church.

The event was being held on Tuesday in Ufa, the capital of the predominantly Muslim internal Russian republic of Bashkiria where President Putin arrived to chair the session of the Presidential Council for Interethnic Relations.
It is taking place about a week after the anti-migrant riots in the Moscow district of Lyublino and a day after a suicide bomber killed six people and injured 36 more in the city of Volgograd, about 1000 away from Ufa.
Speaking at the session of the Presidential Council Putin urged federal and regional officials to set up a special system that would keep track on interethnic relations and prevent possible conflict.
When the Russian President announced the need to set up the monitoring system he said that the work must be done in cooperation with experts, civil society and also with cultural centers of Russia's many peoples and ethnic groups. Putin explained that a special academic center dealing with the problem of ethnic tension had already been created on his initiative and that it is covering southern part of the Russian Federation and regions along the Volga River.
Also on Tuesday Putin signed into law the bill that introduces personal responsibility of heads of the regions for interethnic tensions and conflicts. The new act now allows for the sacking of heads of regions, cities and towns if they allow breaches in state guarantees of ethnic and religious equality.
You can share this story on social media: