Opposition free to go on air – Putin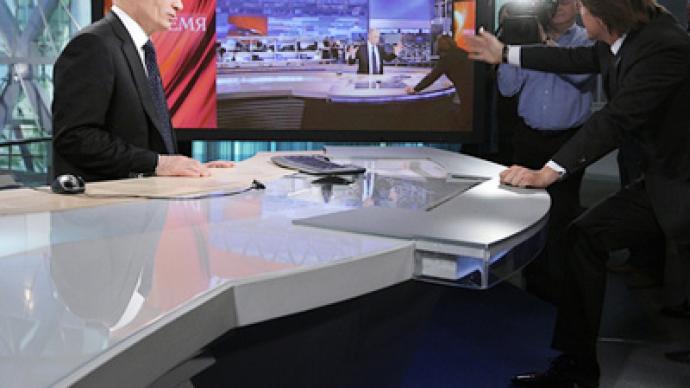 Vladimir Putin has said he believes that the opposition has free access to Russian TV and they often appear on the air to criticize the leadership.
The prime minister was meeting with journalists of the federal Channel One at the Ostankino TV center in Moscow. The premier arrived there to watch a popular show being filmed, and, also, to meet the presenters and directors of the channel.During an informal conversation with the journalists, Putin was asked what he thought about the opposition appearing on Channel One. He said he was quite positive about that. "Unfortunately, I cannot follow too closely what's going on (on TV). But from time to time I see – whether it is on your channel or other channels – representatives of the opposition. They make statements and quite bitterly criticize (the leadership)," Putin said, according to the transcripts published on his official website. He added that the opposition can be seen on TV and heard on the radio, lying. "But I am absolutely relaxed even about that. After all, there should be someone lying, because there are those who want to hear the lies. So let them speak," he said. Putin was also asked to comment on his attitude to critics of the leading party. And that question was addressed to him as the chair of the majority United Russia Party rather than as premier. He said that he believes that criticizing any ruling party always has its grounds since where there is power, there is also "abuses, inaccuracies and mistakes"."That is the destiny of any ruling party, any ruling force.'" Only those who do nothing make no mistakes, he said and added that the opposition does nothing, but criticizes the authorities. According to the premier, the task of the leadership is to create something positive in the economy, social sector, defense or security. And they do make mistakes, since "power is imperfect, just as our life is." The prime minister also touched upon the controversial and much discussed issue of shotguns. He said he is "categorically against" letting citizens keep arms at home as "there is no such tradition in Russia". So "this initiative is a great danger" he believes. Calls to legalize shotguns came into the public spotlight last spring after a Moscow judge was killed in the block of flats where he lived. The proposal came from the Federation Council deputy speaker, lawyer Aleksandr Torshin. Putin also called for further toughening of rules for selling traumatic weapons which shoot either rubber bullets or gas-fired pellets. In December 2010, Russian authorities banned selling traumatic weapons and air guns to those who do not have a permit for them.Ahead of Vladimir Putin's visit to the Ostankino TV center there were rumors that he would take part in a popular satiric TV show "Projectorparishilton" which features famous personalities like writers, artists, journalists, successful businessmen and politicians. However, the rumors remained just that. Still, the premier did drop in on the shooting of the Minute of Fame show, which is the Russian version of Britain's Got Talent, featuring people with unique or extraordinary abilities.And in an informal conversation with journalists the premier also answered some personal questions – which he normally avoids when the subject is his family. He satisfied journalists' curiosity talking a little about his daughters, Maria and Ekaterina, who are studying at university and "are doing quite well" Putin said. One of them is learning biology, the other Japanese and history.
You can share this story on social media: